My Top Ten 2018 were a lot about Hamburg and Northern Germany and there was nothing wrong about that. But 2019 became at least in the second half - unplanned - a lot of ticking off bucket list items and traveling around the world. Therefore my 2019 Top Ten are probably along the photos I will look back to for the rest of my life. Also, this post is way later than usually (around year's end), because it was not one of my top priorities in between coming back from our trip around the world for Christmas and preparing for South Africa mid January. I am now sitting on our veranda at a reserve in Eastern Cape, South Africa, looking towards ostriches, warthogs and blesbok while writing this. Think I am going to remember writing this for quite some time, too. Enough said, here is what after some heavy culling was my Top Ten work of 2019.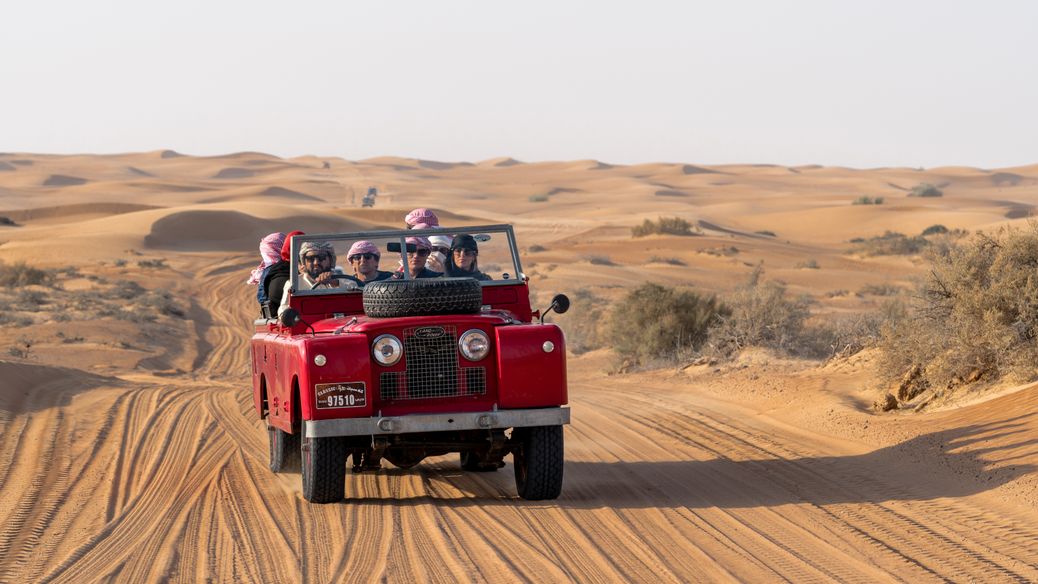 Dubai Desert Conservation Reserve, Dubai, United Arab Emirates
My wife and I have been to Dubai on business trips before. But we have never been there on vacation or longer than five days in a row. Two of my friends who live there asked us to come for quite some time now and in February we decided to go for ten days. During our stay in the buzzling city we also wanted to explore the desert that is surrounding the emirates. We booked an afternoon/night tour and got a recommendation for Platinum Heritage. They are by no means the cheapest but they offer a high-quality experience that's worth the money. They only run vintage landies on the tour. This shot was taken leaning back from our car towards the row of following cars. The drive was followed by an astonishingly interesting falcon hunting show, a classic and cliche like sunset in the desert and some good food along traditional entertainment. Pretty touristy, yes, but on a nice level and an evening to remember. Enjoy some more shots of Dubai and the desert here.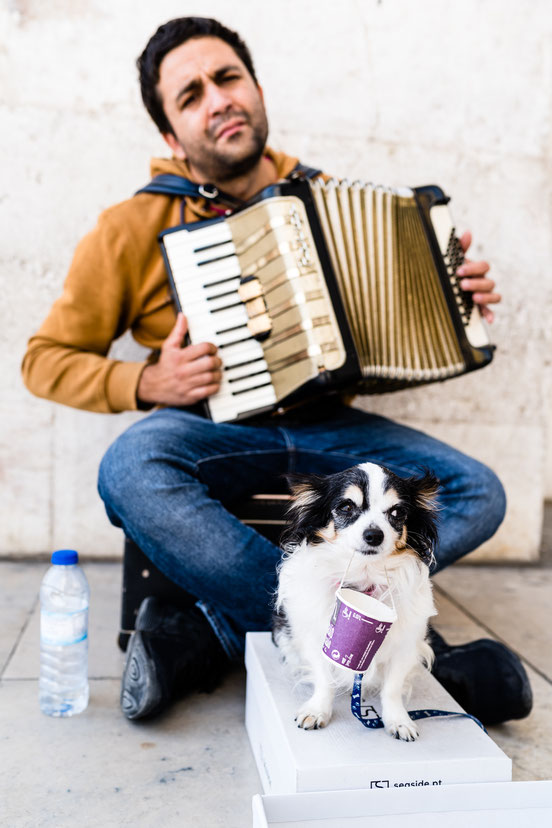 Praça de Commercio, Lisbon, Portugal
Easter 2019 was our first time in Lisbon. An absolute beauty of a city with so much maritime heritage along the Rio Tejo since the 16th century and a must-see city in Europe! I am always up for some street photography during my trips and took this shot under the Arco da Rua Augusta. It is a huge white arch at the upper top of the Praça de Commercio, the cities main square. Loved the way the tiny dog was carrying the cup for some small change and therefore supporting its master playing some traditional fado vibes on the accordion. More Lisbon pictures can be found here. If you are into my street photography check this page.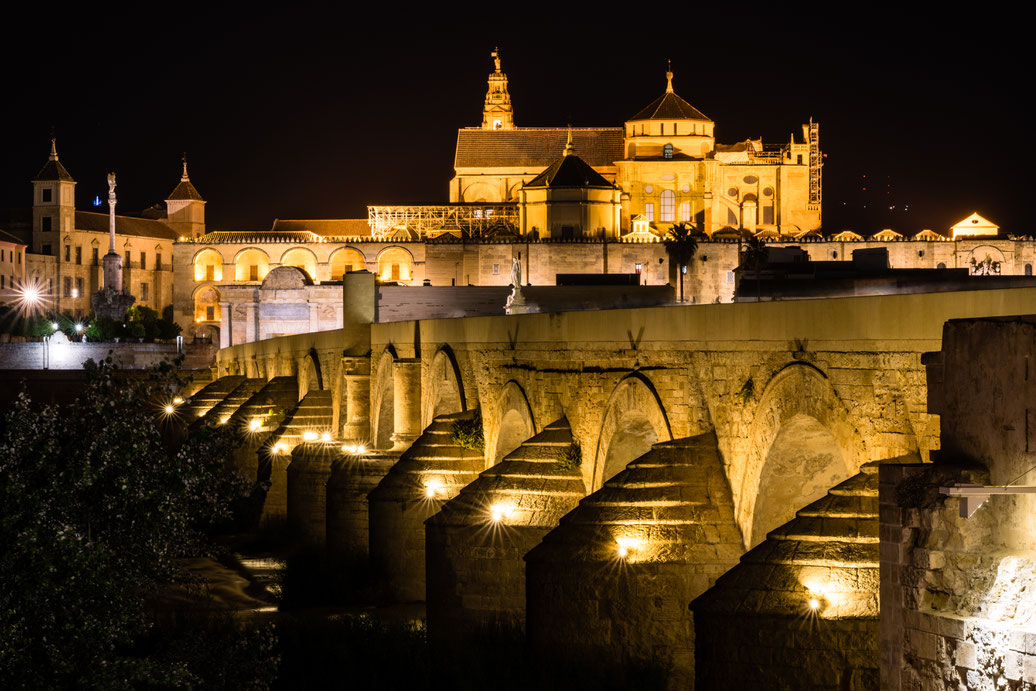 Puente Romano, Cordoba, Andalucía, Spain
Andalucía was also a first the year. We went for a good week end of May on the occasion of my father-in-law's 80th birthday. Part of the round trip covering Granada with the beautiful Alhambra, the mountain village Ronda and Malaga was Córdoba to visit the famous Mezquita de Córdoba (one of the most impressive buildings I have seen in my life!). It was classic Córdoba weather back then, meaning 36 °C. After a full day of walking around I went on my own to photograph the ancient Puente Romano (or Puente Viejo) crossing the river Guadalquivir. Imagine 24 °C at midnight for a night shoot. Not too bad after unbearably hot temperatures during the day. It has 16 arcs and dates back more than 2.000 years. The even more famous and stunning Mezquita-Cathedral de Córdoba can be seen on the other side of the river. It covers 23.000 sqm and is one of the largest former mosques in the world. They even built a cathedral within the mosque in the 16th century replacing the old minaret. This makes it really unique. The feeling entering the cathedral from within the building after strolling the mosque is hard to describe. Don't miss this architectural master piece once you're around!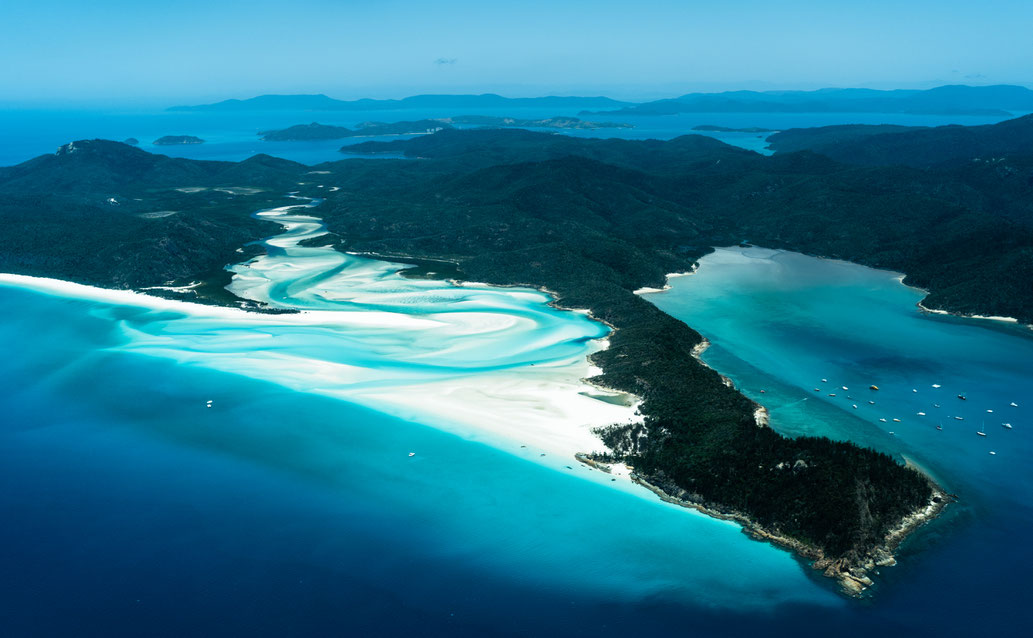 Whitsunday Island, Queensland, Australia
This and all the following pictures are from our - more or less spontaneous - trip down under and around the world. This is Whitsunday Island with its long and pure white Whitehaven Beach (98 % pure silica). After visiting the beach by boat in the days before I surprised my wife with this birthday flight around the area. It lasted for an hour and we flew over the coastal national park, several Whitsunday Islands, the open sea and finally the part of the Great Barrier Reef that includes the Heart Reef. But this view was definitely the highlight of the flight. I mean, the colors of the inlet mixing with the white sand - marvelous!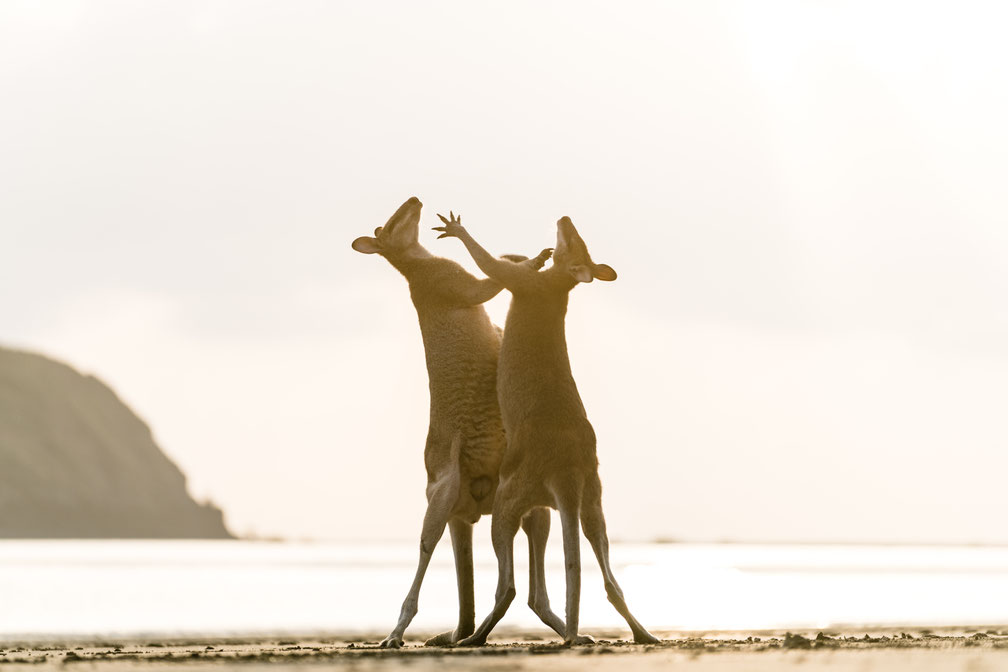 Wallaby fight, Cape Hillsborough, Queensland, Australia
Instagram is a blessing to some and a curse to others. But without it I wouldn't have known about this spot. The Cape Hillsborough Tourist Park in Queensland, Australia, is a quite remote RV park at the beach front. Every morning lots of wallabies and some grey kangaroos come down to the beach from the Cape Hillsborough National Park to feed from the algae that the flood left at night. Our alarm clock was set to 5 am and we went the fews steps to the beach to be there way before sunrise around 5.20 am. Some of the marsupials have already been there foraging. With the rising sun and more tourists it got a bit crowded. Around 40 people, a marine biologist from Mackay, lots of wallabies and some grey kangaroos populated the scene. First, I was a bit annoyed about the marine biologist setting up small yellow cones like for soccer practice. But seeing how some tourists tried to cuddle with and even feed the animals I understood that this is a sad necessity. They just want to ensure that future tourists can have the same experience that we had. And what an encounter this was - one of my all time favorite animal experiences ever! After filling their bellies some male wallabies started to check on their strength levels. They started to "fight" at the beach. It looks quite aggressive from this picture, but it is more of a ritualistic fight to impress the females. I was very happy with the footage that day - both photo and video. I layed down my 70-200 lens on the beach to stabilise it and to include some foreground to the scene to show some depth. Pretty pleased with this shot!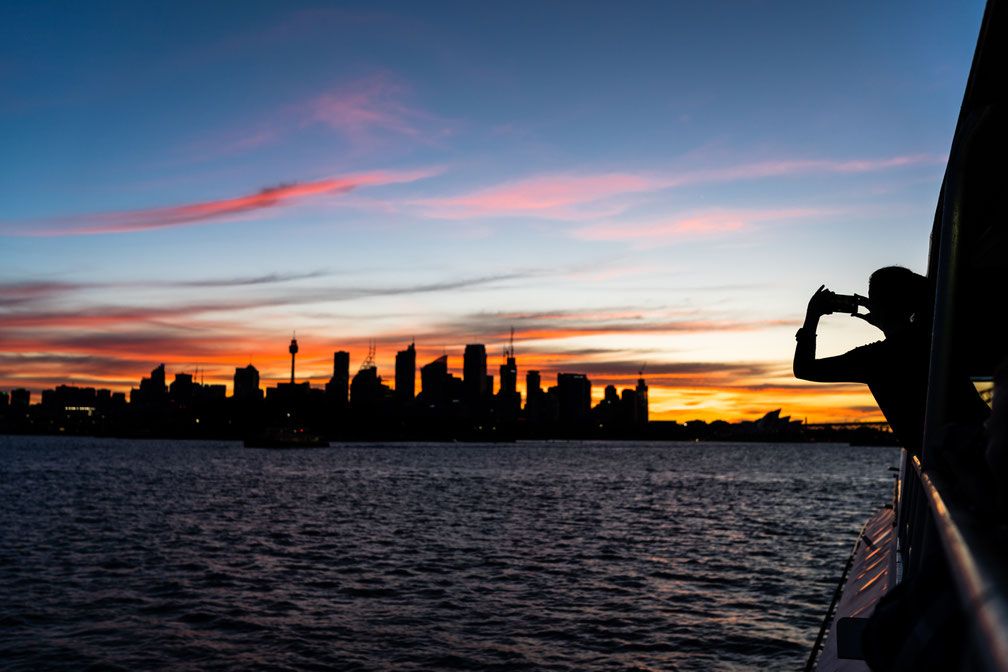 Sydney skyline off the Manly ferry, New South Wales, Australia
I have been to Australia and for a very short time in Sydney with university on a field trip back in 2001. This time I wanted to spend some more days in the city since I knew about its beauty. I friend of my wife lives in town since 2006 and we payed her and her partner a visit in Manly. We took the ferry from Circular Quay and after an early dinner I wanted to take the ferry that was timed for sunset. It didn't work out like the photographer hoped for and we took a ferry later. First, I was a bit disappointed, but coming closer to Sydney harbour I realised that I was in for an ever bigger treat than the one I hoped for. It was time for blue hour and the skyline literally was on fire! I constantly took photos and videos on deck and also got this shot of lady taking a cell phone shot of the skyline. A perfect moment for me.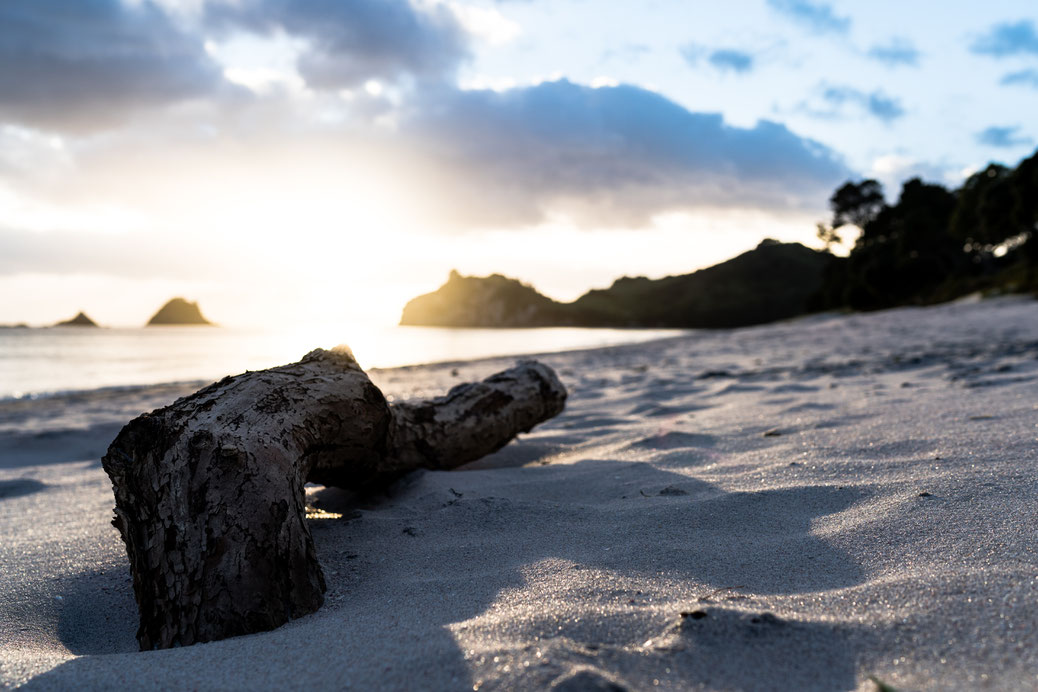 Hahei Beach, Coromandel Peninsula, North Island, New Zealand
Almost one month for RVing New Zealand sounds like a lot of time and definitely is something to be grateful for. But when you lay out a map and mark all the spots you want to see you will quickly run out of time before you've even started. Still, we stuck to our plan and spent two days around the Cathedral Cove on the Coromandel Peninsula which is in the Northern part of the North Island. Whenever we stay at a beach I normally don't miss a sunrise. Especially when its aligned that nicely. This is Hahei Beach at Hahei Holiday Resort. A got a recommendation for this place and was very happy with the location for the walk to Cathedral Cove. This spot is where some of New Zealand's great short walks start.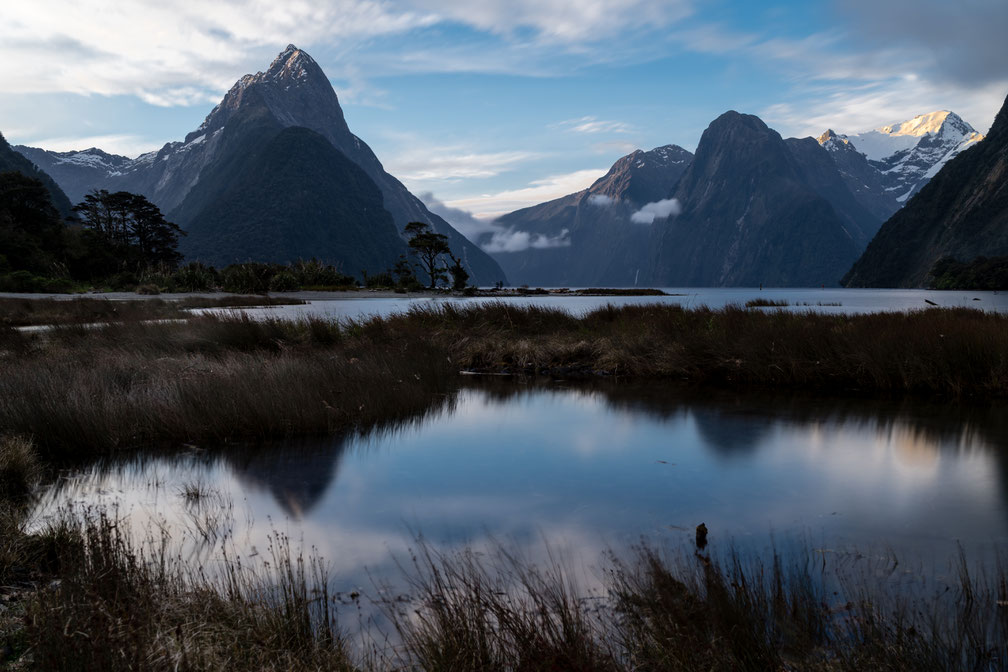 Milford Sound, Fiordland, South Island, New Zealand
Milford Sound was very high on my bucket list for ever I would say. We didn't do the Southland back in 2001 during my trip with university and I always thought this spot was way too inaccessible to go to. Although its access street ends at a remote corner of the southwest edge of the Southern island of New Zealand it is easy to get to even with an RV. I planned on staying for two nights since weather is unpredictable in that corner of the island and it rains most of the time of the year. And so it was when we drove down Milford Road to the very end. Just rain for the whole day and the windshield wipers on their highest level. I had to walk for 30 min from the car park to this spot where you have the perfect view towards Mitre Peak. Still, I got up before sunrise the first day and went again for sunset. And same programme for the second day. All of the time I didn't get the light I had hoped for, but with a place like this, seeing it for the first time, there is absolutely nothing to complain about! In the morning I was on my own mostly, for sunset there where way more people enjoying the scene. And most importantly, this spot stands up to its expectations. It is as beautiful and stunning as it looks from pictures.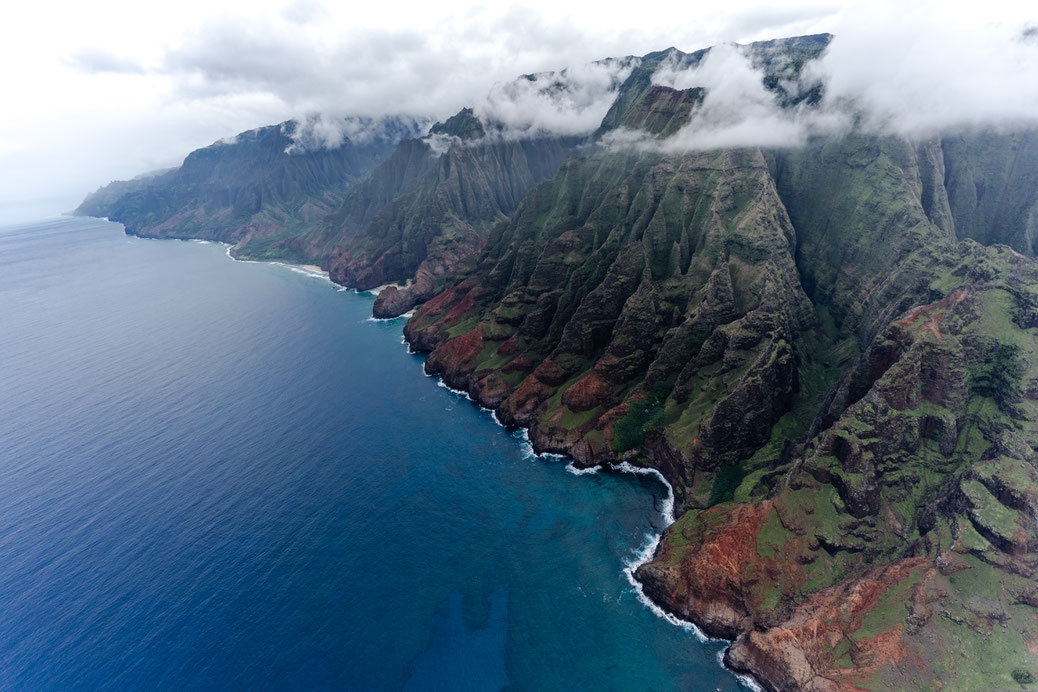 Na Pali Coast, Kauai, Hawai'i, USA
Hawai'i is a chain of eight major islands that are of volcanic origin. Kaua'i is almost at the oldest end of it - opposite to the youngest end being Hawai'i Island (or Big Island). Therefore, rain, wind and weather formed this island for millions of years after its initial formation. 70 % of Kaua'i is not accessible by road. There is basically only a ring road going around three quarters of the island. You can't reach big parts of the Northern tip of Kaua'i by road. But you can by air or by sea. I wanted to do a heli ride and got a recommendation from a fellow photographer via social media for Mauna Loa Helicopters. If you are thinking about going to Kaua'i - which I highly, highly recommend, don't save your hard earned money, but spent it on a tour like this. You will not regret it! We did a full hour heli ride doors off and toured the whole island. My highlight was the Na Pali Coast which is at the very Northern tip of the island that offers huge drops down to the Pacific. There is a trail to walk (the Kalalau trail) once you take care of a permit months in advance or you can see this stretch of coast by boat. But the heli ride over the island was something I will not forget for the rest of my life! Although the light that day was far from spectacular the landscape compensated big time. This is one of the most beautiful landscapes that I have seen in my whole life - period.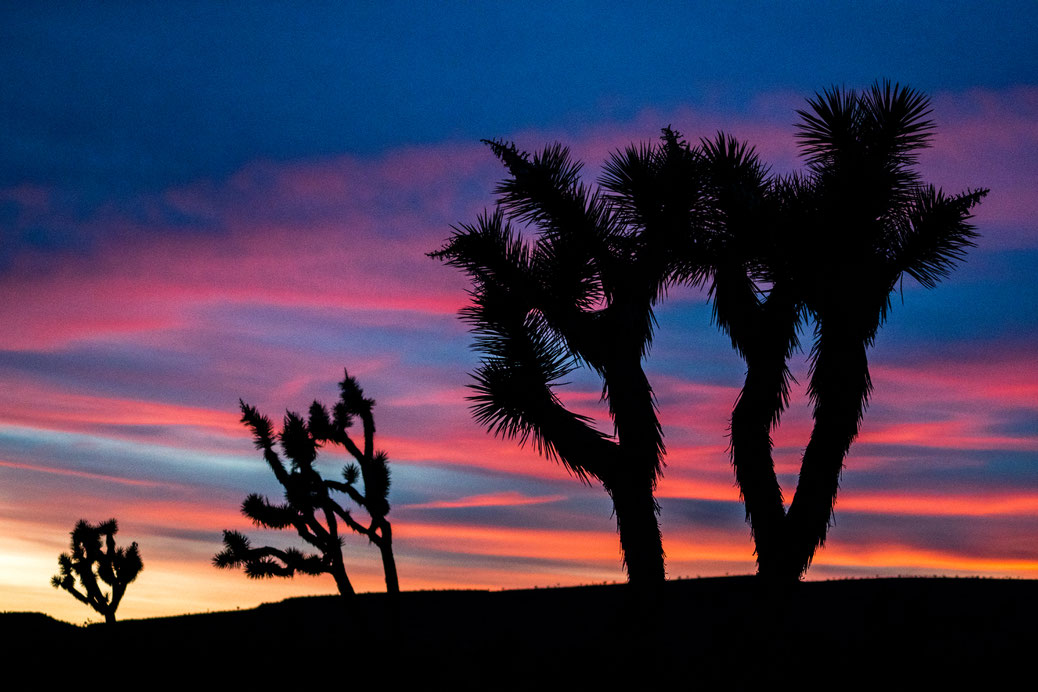 Joshua Trees, Arizona, USA 
We finished our three month trip around the world with a five days layover in Las Vegas late December. And since we love nature and the outdoors we didn't just want to walk up and down the Las Vegas Strip all week. Therefore we spent a day at the Valley of Fire just an hour outside of the city and a day with the classic Lake Mead - Hoover Dam - and Grand Canyon tour. On our way to the Grand Canyon West we stopped at the Joshua Tree Forest in Arizona. And after a full day of stunning vistas at the canyon I had to stop for these random Joshua trees again when I saw that the sky started to burn after sunset. I knew this was going to be special, but I didn't expect the sky to be that spectacular. My picture looks a bit like a long exposure, but its just a handheld shot that I decided to include in my 2019 Top Ten.
Having that many pictures, locations and memories to choose from for last year's collection was good fun and quite a difference to some of the years before. Feel free to leave a comment about my Top Ten. If you like what you see make sure to check my previous Top Ten (2018, 2017, 2016) collections dating back as far as 2014. And be sure to come back this year for some of my blogposts about out trip around the world!