Sometimes I see a picture and get an idea for a new blogpost. This one was kicked off by the Addo Elephant Park. I flipped through my Lightroom gallery and looked for some "epic light" shots. Hope you like this little collection and let me know if anything looks familiar to you.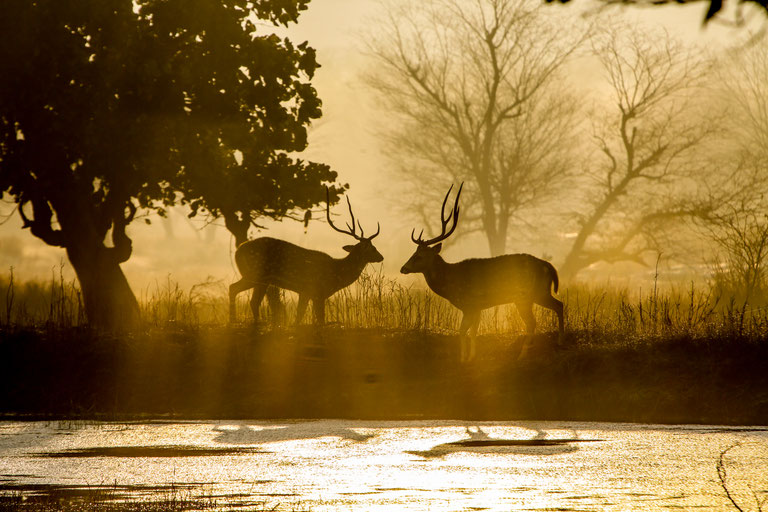 Sunrise at Ranthambore National Park, India
We started our sunrise game drive with some glorious light. Ranthambore is famous for its tigers. To make a long story short: We didn't see a tiger, but plenty of spotted deer, blue deer, monkeys, birds and some incredible landscape. Still so worth the detour from our original location. When we left for the next spot we saw a picture of a tiger behind a large tourist truck going to the park. The tiger was in the village and the very street we stayed in! Check this link for more India pictures.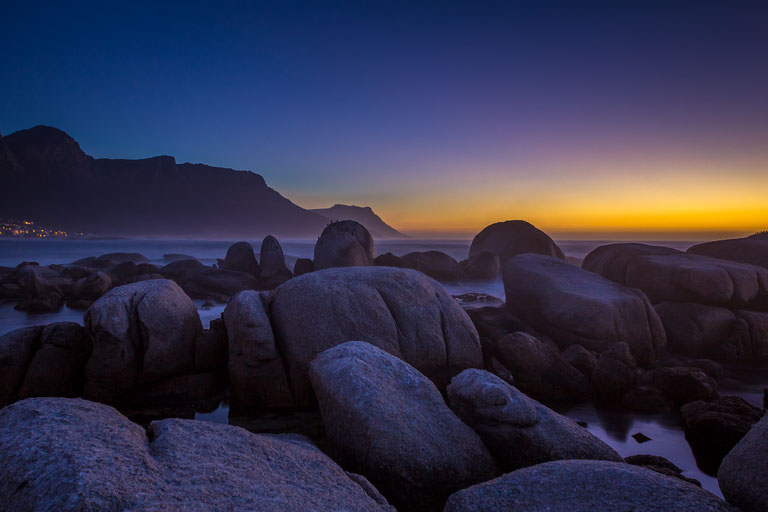 Blue hour at Camps Bay, Capetown, South Africa
This is one of my favorite shots ever. It is a long exposure of boulders in Camps Bay near Capetown, South Africa. I shot this during blue hour mid February 2014. Find out more about my South Africa trip via this link. And here you can find out more about my "At night" work.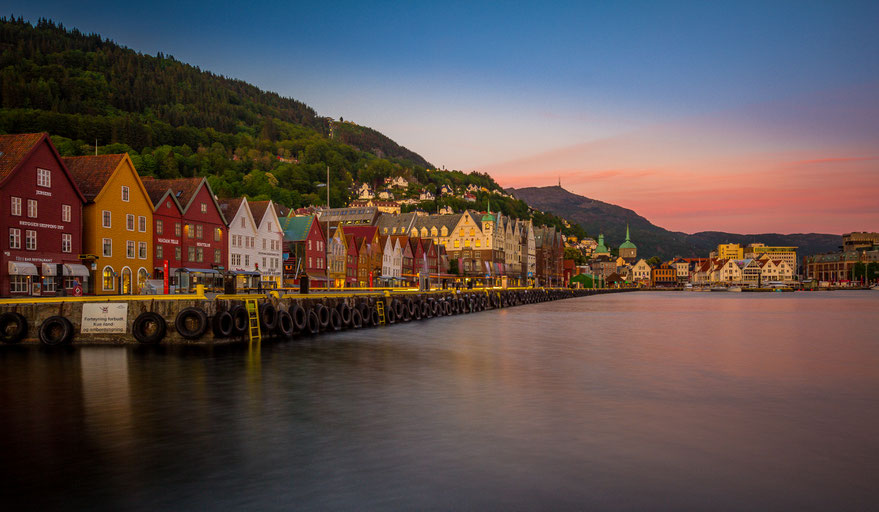 Blue hour at Bergen harbour, Norway
We went to Norway for the first time in May 2014. After a classic touristy day I went out again for a very late sunset and blue hour that night and came home with some nice ones. This is a 20 sec exposure from Bergen harbour at sunset. To the left you see the old houses of Bryggen, further down left is the famous Fløibanen. Find out more about my Norway trip via this link.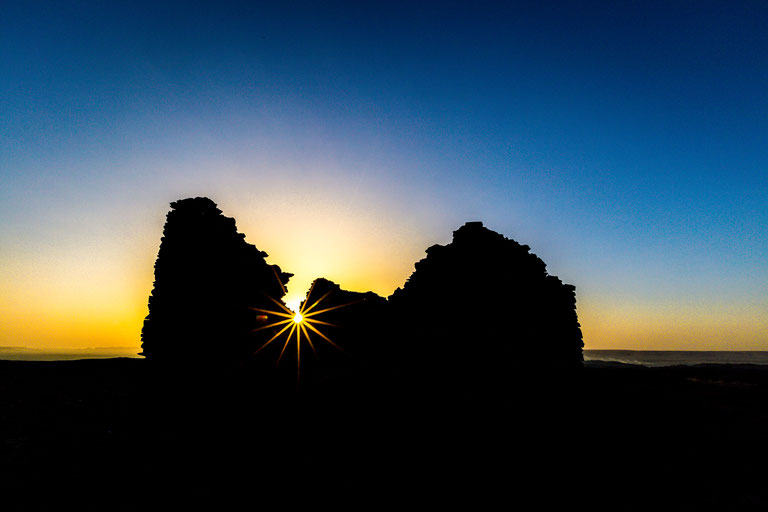 English mountain, Bahariya oasis, Egypt
November 2014 was about time for my first trip to Egypt. After a few days at Giza we were headed southeast for a 5-day oasis tour. This is the ruins of the English Mountain outside the Bahariya oasis. We arrived there just in time for sunset and the old ruin made posed as a nice silhouette for the sun star. The name 'English Mountain' was given due to the British Forces occupying the region during the first World War in 1916. It was used as a reconnaissance post in the Bahariya Oasis.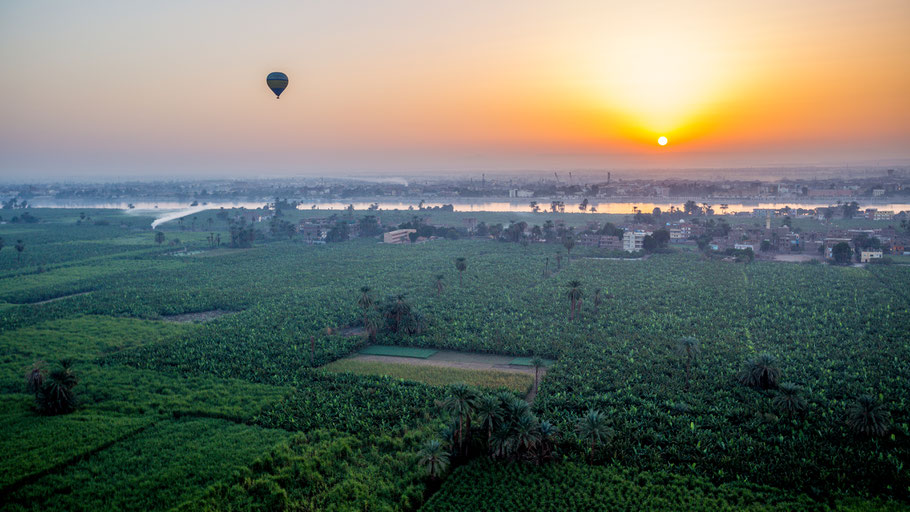 Balloon ride into the sunrise, Thebes, Egypt
During the second half of our Egypt road trip we stayed in Luxor and planned a balloon ride on the other side of the Nile river. After an early start we arrived at Thebes and the balloons were already getting heated in the dark. My first ever balloon ride was quite a memorable experience especially due to the epic light before and during sunrise and the location we drove over. Flying past the Hatshepsut temple and seeing the sun rise above the foggy Nile valley was definitely a bucket list item.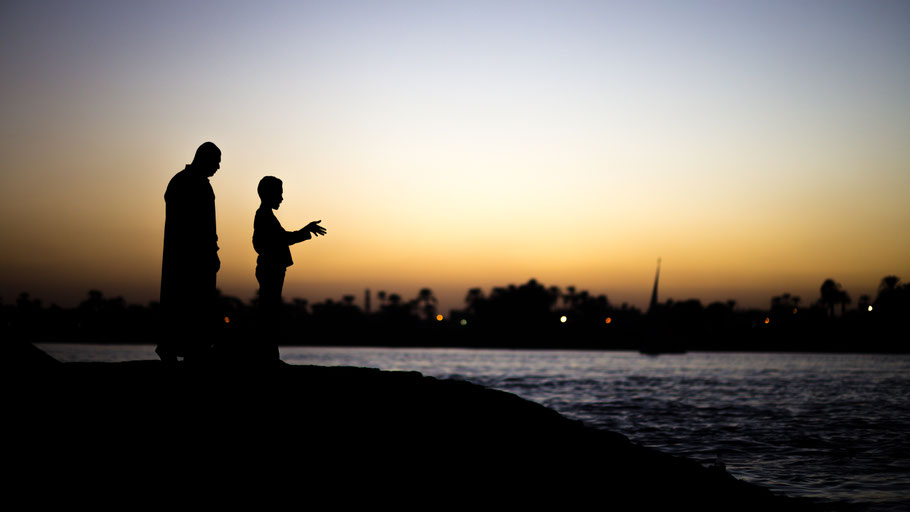 Father and son at the Nile river, Luxor, Egypt
We finished our Egypt trip with a few days in Luxor. After a sunset dhow ride in Luxor on the Nile river I saw this silhouette of a father with his son fishing. I really like their sharp silhouettes during blue hour.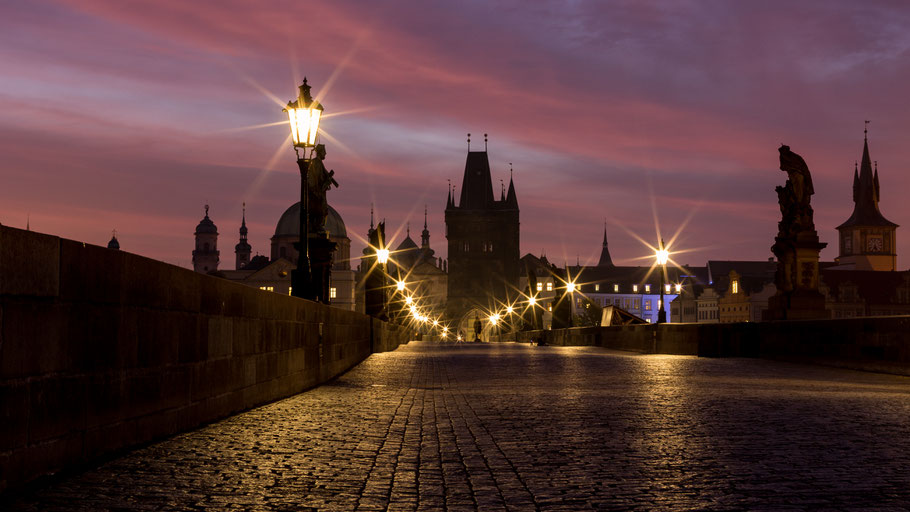 Charles bridge before sunrise, Prague, Czech Republic
I was in Prague early October 2015 for the second time and spend some time for long exposure on the very early morning. I was amazed about the great colours in the morning. The blue hour became a red hour! I even saw a Chinese couple doing some wedding shots on the famous Charles bridge. Check here for more.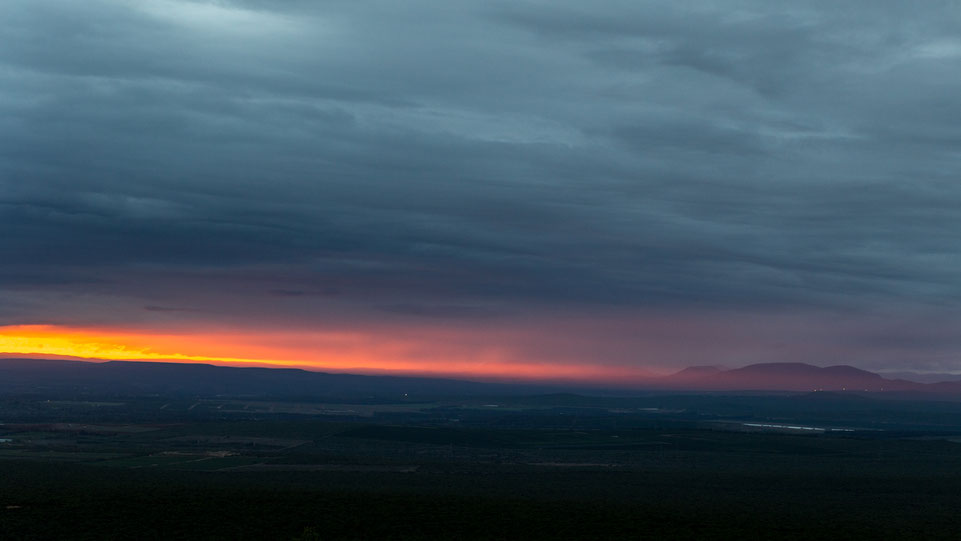 An epic sunset at Addo Elephant Park, South Africa
Addo Elephant Park was on our list for the second time in South Africa. We flew to Port Elizabeth and started our road trip with a game drive. The park is full of elephants and at the last stop of our sunset drive we had a breathtaking viewpoint with this epic last light underneath the strong and dense clouds. Here you can review some more South Africa pictures.

Laki - My first Northern Lights, Iceland
After a good two hour 4x4 drive we made it to Laki and drove to the very end of the road to lake Lambavatn. Camping is allowed in Iceland wherever it is not forbidden. Since you hardly find any information signs in the highland you can practically set up your camper van anywhere. We parked at the highest elevation towards Lambavatn lake for the best view (also for the most exposed and coldest position for the strong winds at night...). Although the Aurora season just started we got lucky and at around 1am I saw my very first Northern lights at a breathtaking location. It was just strong enough to get an idea of the green sky with your naked eye. A night I will never forget. Check out the full story on our Laki adventure.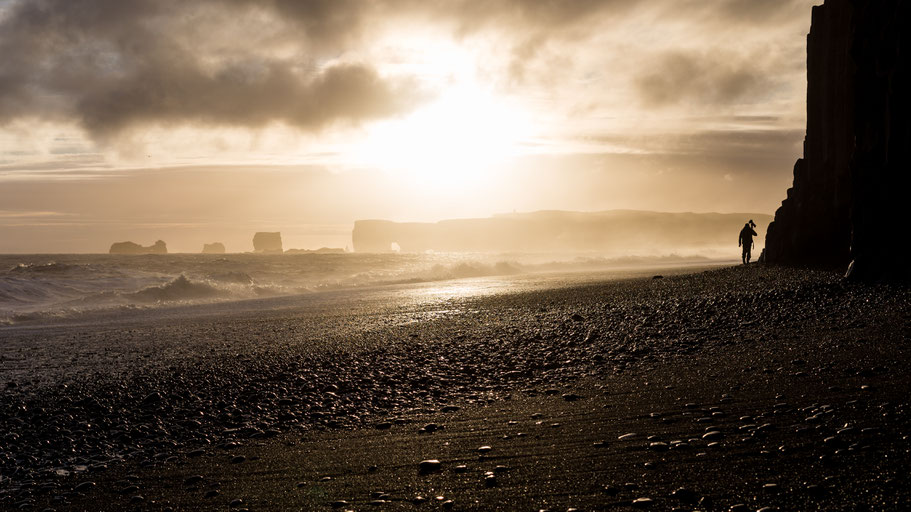 Reynisfjara black beach, Iceland
When you hardly get any sunrise or sunset during a 10 day trip to Iceland a sunset like this is special anyway. We got lucky with this one at the beautiful Reynisfjara black beach West of Vik in South Iceland. With this shot I was facing towards the Dyrhólaey rock and the setting sun. I waited until the photographer we met in the nearby cave went home and made for a perfect silhouette with his tripod and camera shouldered. Make sure to check my Iceland 2016 gallery.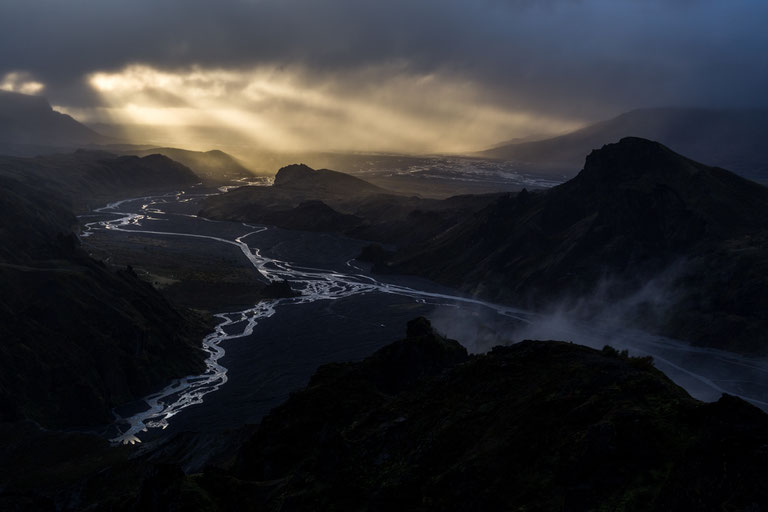 Þórsmörk - Just in time, Iceland
I regularly browse the internet for locations that I plan to visit and so did I for Iceland in September 2016. I found some stunning pictures of a valley with a free floating river called Þórsmörk. And here I finally was almost at the end of our 10 day trip after an hour hiking in the rain before sunset on the peak. Since it was cloudy and I had hardly any light, but rain and wind I already started my descent. "When the weather is not good in Iceland, wait for 10 minutes", I remembered. The picture shows what happened after 10 min. Check out my Iceland 2016 gallery.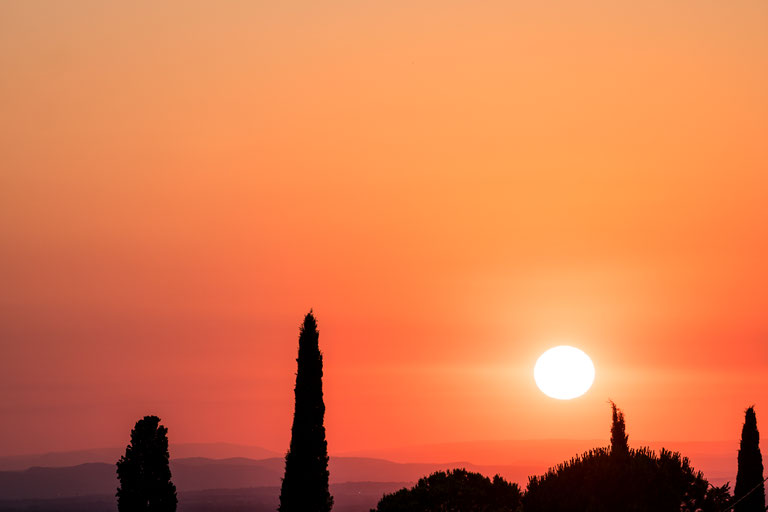 Sunset at Mount Ventoux, Provence, France
After a summer day in the Provence and a drive on top Mont Ventoux we just passed by this vineyard looking for dinner and I stopped for a few sunset pics. I couldn't frame the spot lower than this due to some low hanging cables. But looking at this picture now, I quite like this minimalist shot of an orange sunset in the Provence. Check here for my pics of my recent France trip.