2020 was special to almost everyone. After our tour around the world in the last quarter of 2019 we went home for Christmas. Four weeks later we went off again. This time to spent our winter in the South African summer. We got lucky that our sabbatical wasn't affected by Covid 19 until the very last week of our trip. When coming back to Germany mid March we went straight into the first lockdown and started with home office in April. The flight mid March was the last for the whole year. And vacation in 2020 was also quite different from previous years. So my Top Ten 2020 is South Africa and Germany only this time. Enjoy!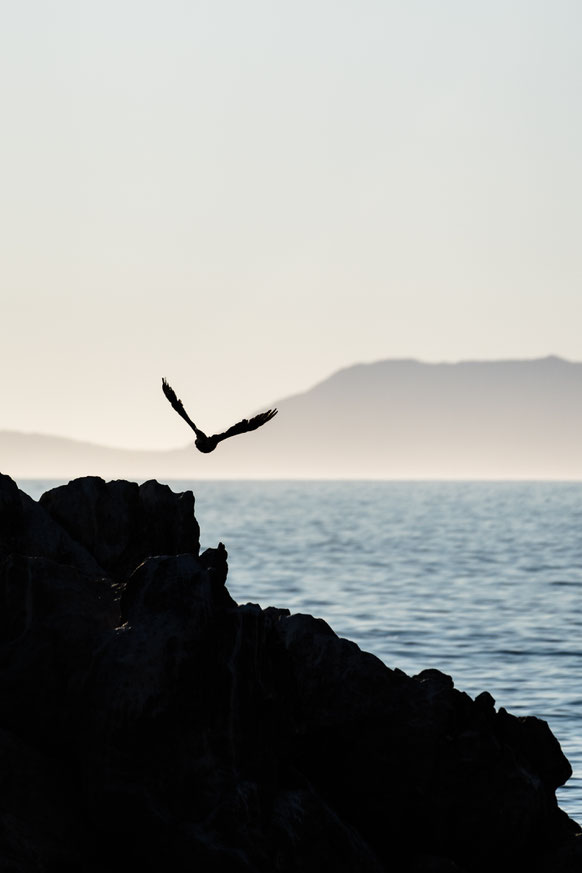 False Bay, Western Cape, South Africa
"And make sure to check the seal colony", my landlord Ken told me. "You can almost see the colony from your accommodation. It is at the very end of the rocky shore line." I grabbed my tele zoom, put good hiking boots on and went for sunset with seals and cormorants. It took me some good climbing over the rocks and ten minutes to reach the cormorants first and then the seal colony. Most of them were enjoying the evening sun while the typical heavy winds pushed the seas of False Bay. Table Mountain and Devil's Head were always in the far background of the bay.
This is a frame of a White-breasted Cormorant starting towards False Bay in the evening sun. These cormorants have brown colour and a distinctive white chest. They belong to the largest of the cormorant species with a length of 80 to 100 cm and wingspan of 120 to 150 cm. They predominantly feed on fish, crustaceans and molluscs. You can find some more information on the seal colony via the Kogelberg Biosphere Reserve and some more of pictures like these in my blogpost about Rooi-Els.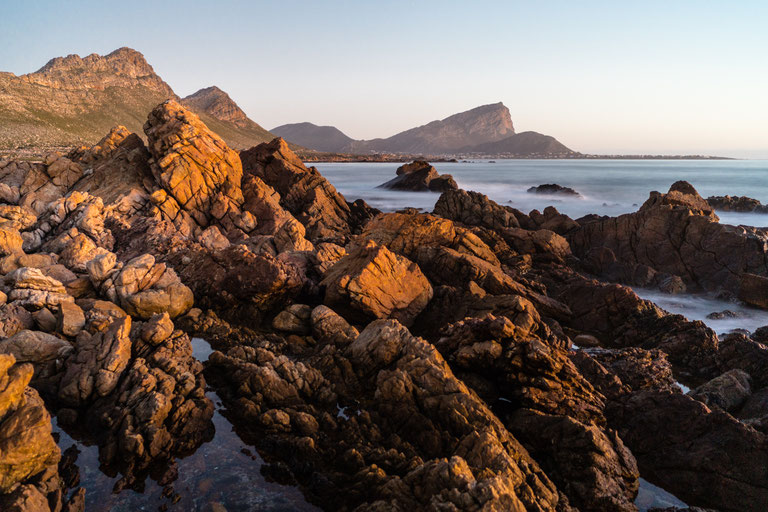 Rooi-Els, Western Cape, South Africa
During our sabbatical in South Africa were looking for a place to stay for two weeks. We wanted it to be at the Western Cape but not in the immidiate vicinity of Capetown. We found a very nice home in Rooi-Els. To the west of the town is the huge False Bay with its occasional but fewer White sharks and Orcas and to the east is the Kogelberg Nature Reserve. Rooi-Els is Africaans and means red alder, a tree that occurred in town in previous time but not today anymore. It is a quiet coastal town with untarred streets that have no street lights. The sunsets at the coast are excellent. This is a long exposure of the rocky shore during sunset towards the little town of Pringle Bay. Please make sure to check my extensive blog on Rooi-Els: Rooi-Els is an underrated nature gem in the Kogelberg Nature Reserve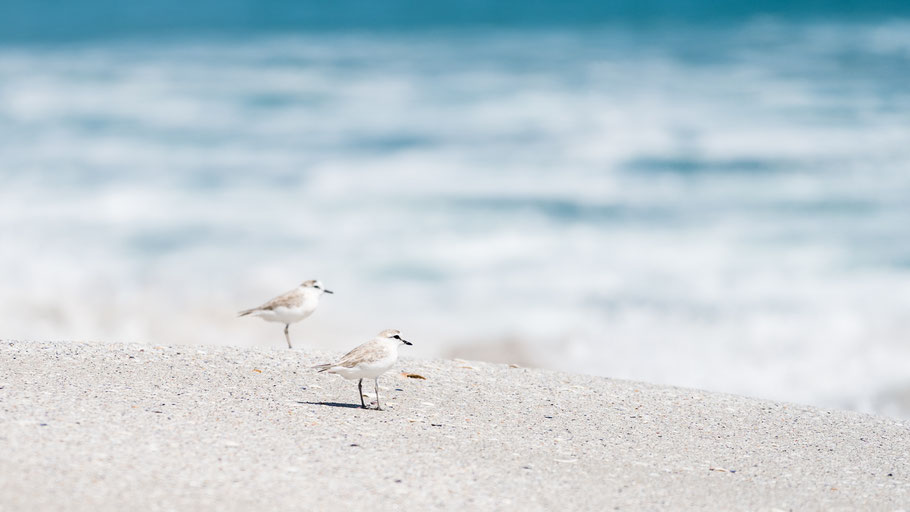 Walker Bay Nature Reserve, Western Cape, South Africa
Walker Bay is a nature reserve east of Capetown along the Garden Route. It is an untouched beach between the whaling hot spot Hermanus in the west and Gansbaai in the east. This is a shot of two strandlopers that are checking the spray of the waves for something to eat. Love the summer vibe of the colours. When visiting first in 2014 we stayed at Grootbos Private Nature Reserve sitting on top Walker Bay. This beach will always be special for us since we got engaged here back then. On top of that the Walker Bay Area was also home to middle stone age people that lived in the Klipgat caves. During the South African summer month the bay is also a whale watching arena. If you ever have a chance to see that place, drop by! Check for more Walker Bay beauty in my Top Ten beaches blogpost.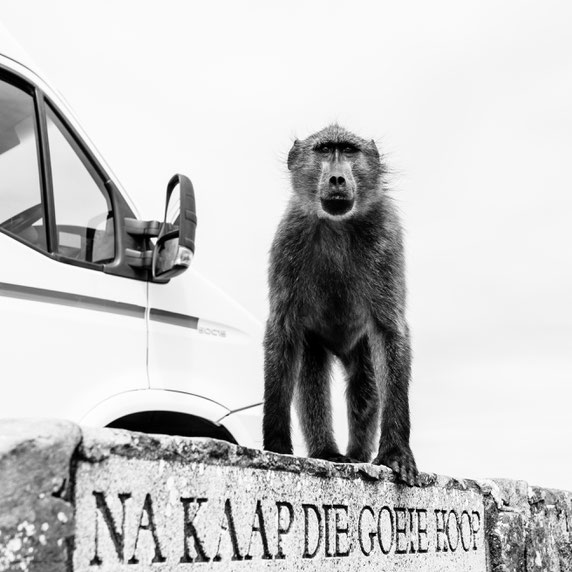 Cape of Good Hope, Western Cape, South Africa
Cape Point and its very nice National Park is one of the many must do activities when in the Mother City and spending a day on the Cape peninsula. And although we have been there before we payed a visit in early 2020 again. Mainly for the less-touristic spots with lots of blesbok and ostriches along the secluded beaches. But when we finally went to the Cape Point lighthouse and parked the car we met the local troop of Chacma baboons. And believe it or not, you will still see some irresponsible tourists feeding them. And the baboons will gladly wait on your car for some more food. I saw this guy on my way to the lighthouse perfectly sitting on the Africaans sign towards the Cape of Good Hope. He was perfectly still for a second or two and looked straight into my lens. Had to go for a back and white image with this baboon portrait and love it! I recommend this National Geographic article about Chacma baboons in the Capetown area for further information.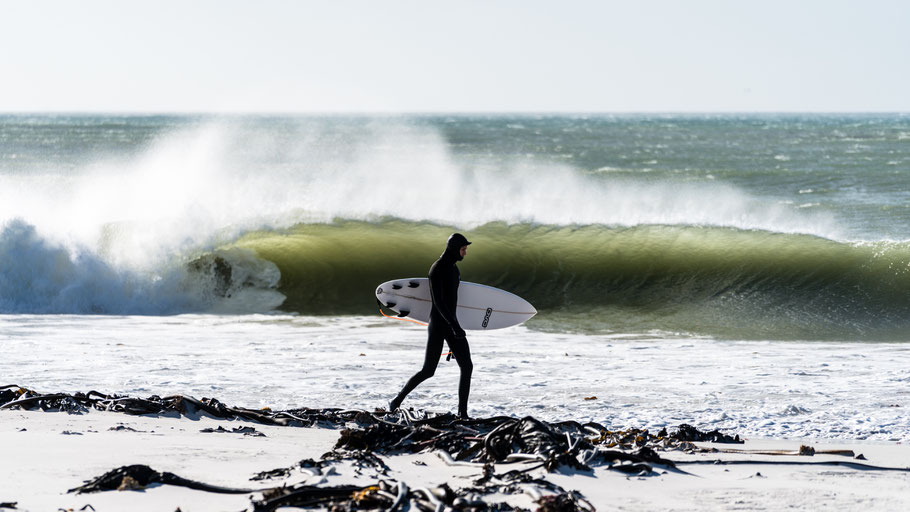 Kommetjie, Western Cape, South Africa
After a walk along Noordhoek beach we drove a few kilometers to Kommetjie and its surfer beach. I am always up for some street photography even on the beach. It was a sunny and windy day with some good surf. I positioned myself in front of a crashing greenish looking wave and waited for a surfer walking along in neoprene. Quite like this shot especially because of the green wave and the kelp in the foreground.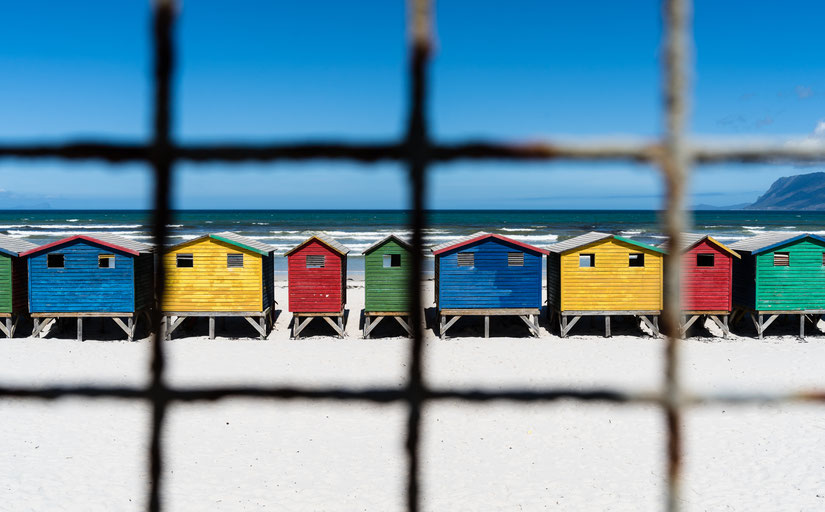 Muizenberg, Western Cape, South Africa
These are the colorful beach houses of Muizenberg. Some people call them 'beach huts', some 'beach house's, others 'bathing boxes' or 'beach boxes'. The beach houses are without a doubt one of the most identifiable and photogenic spots South Africa has to offer. You will find them on different spots along the 32 km long False Bay coastline (i.e. in St. James). But these are by far the most prominent. People rent them for a whole season as changing rooms and for storing surf boards. They are also very popular as backdrops of touristic pictures as well as for big commercials. Originally, they were set up as some kind of a throw-back to the bathing machine of the 1800s. A cart-like structure that was rolled down to the beach allowing the ladies the change in their bathing wear. Please make sure to check my related blogpost with some stunning pictures of this landmark.

Bremm, Rhineland-Palatinate, Germany
The small town of Bremm at the Moselle was one of our first stops during our Germany road trip back in August. We parked the car and walked up through the vineyards until the view of the famous Moselle loop that you can see here as a panoramic. The slopes to the left are the steepest in Europe with 65°. The Romans appreciated the spot as early as 2000 years ago to grow grapevines. They called the hill 'calidus mons' – the hot hill – for it is a south-facing slope with extremely favourable climatic conditions. Today it is called "Calmont".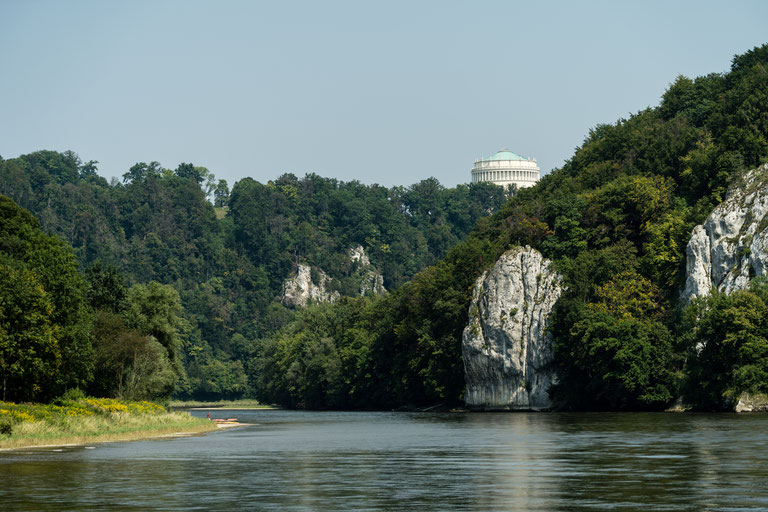 Weltenburger close, Bavaria, Germany
Sometimes you need time to find the treasures in your own "backyard". In this case it took me 42 years of my life to see the Weltenburger close, or the Danube gorge for the first time. Starting from Kehlheim, a Bavarian city along the Danube, we took a ship of the famous white fleet to go up the river for about 45 minutes. A beautiful ship ride up river through some pristine nature. Shortly before you reach the Weltenburg monastery, the oldest monastery brewery of the world, as final destination you pass the Weltenburger close. About 80.000 years ago the backwards erosion created todays river bed of the Danube. It has been named a natural monument as early as 1840.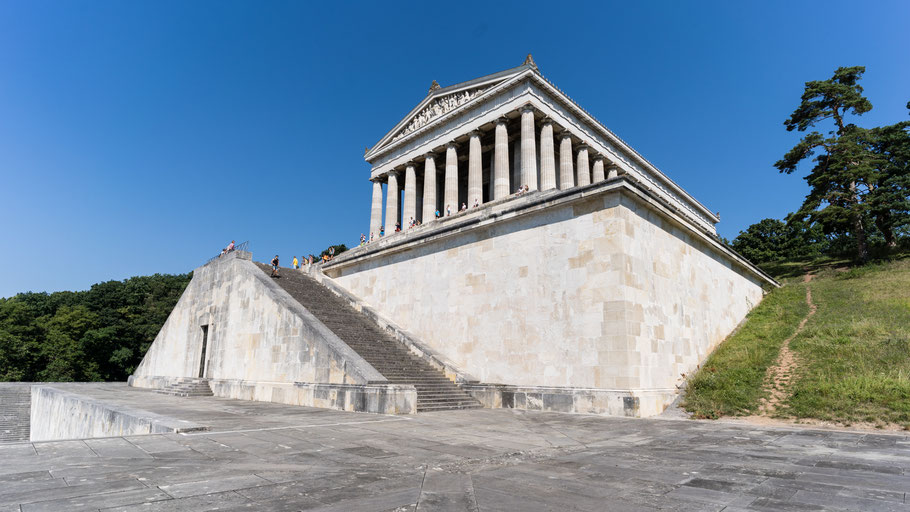 Walhalla Memorial Temple, Bavaria, Germany
The old town of Regensburg was on our list during our summer road trip in Germany. And just outside of Regensburg sits the beautiful Walhalla above the mighty Danube river. We spent a very sunny summer morning at this magnificent location. We had a chance to visit the hall of fame for those people who have been honored in German history. Lots of busts for politicians, sovereigns, scientists and artists of German tongue. The hall itself is a neo-classical building in Donaustauf, Bavaria. It was built between 1830 and 1842 by the Crown Prince Ludwig in order to support the gathering momentum for the unification of many German states.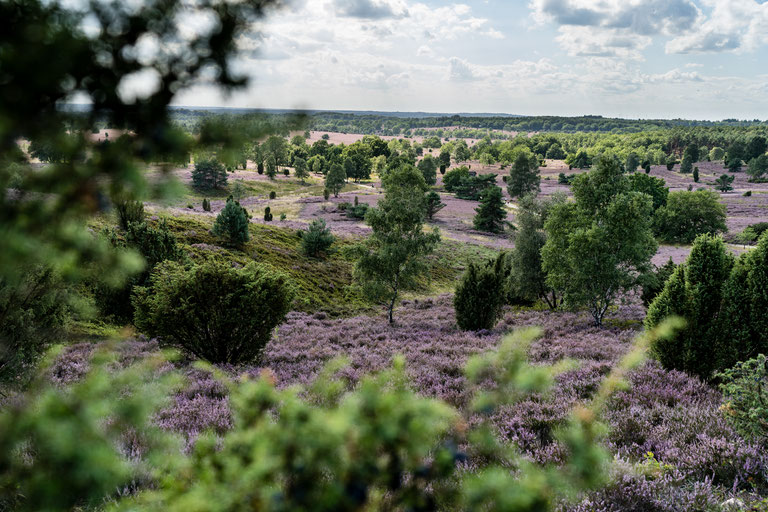 Wilseder Berg, Lower Saxony, Germany
The Lüneburger Heide is about an hour south of Hamburg. We timed the visit of my wife and I with her parents for a Saturday during peak season. Peak season means heather blossom which is normally during August. This is a shot from atop Wilseder Berg, the highest hill around (169 m). Lots of purple heather along many juniper trees.
I am pretty sure that this 2020 collection will stand out in some ways even for the years to come. Didn't travel that much, didn't meet that many people, puts masks on and avoided the crowds. Already looking forward to the time when traveling gets back to what is was, I guess. Feel free to leave a comment about my pictures. If you like what you see make sure to check my previous Top Ten collections of 2019, 2018 and 2017. They are dating back as far as 2014. And be sure to come back this year for some of my new blogposts!