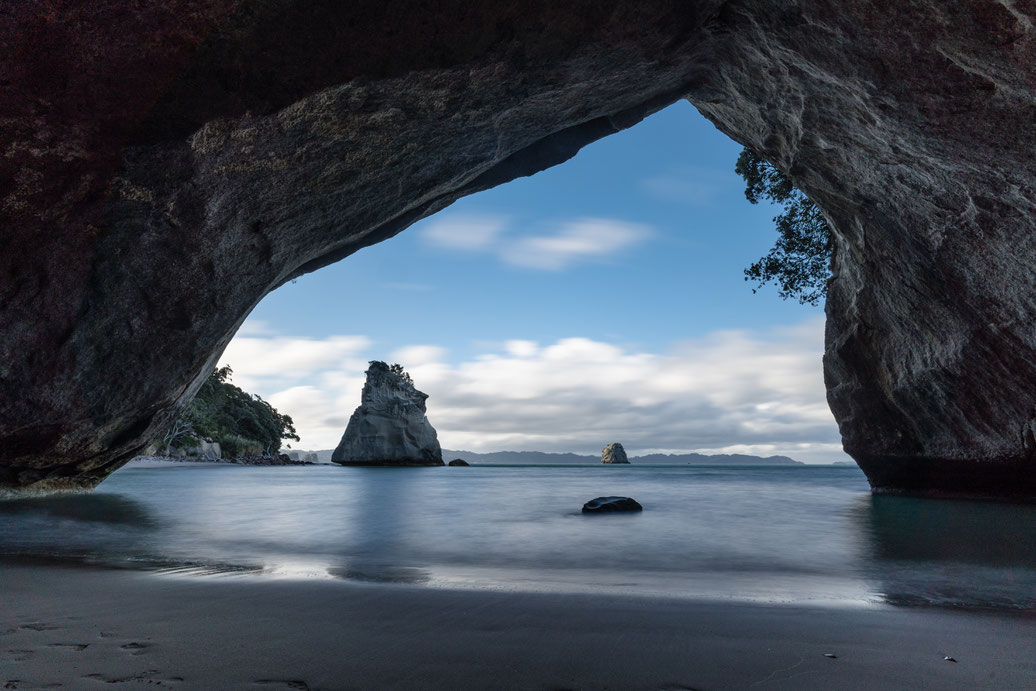 Cathedral Cove, North Island, New Zealand
After starting our road trip in Auckland we drove to the Coromandel Peninsula. We stayed at Hahei Beach (see next picture) and went for a walk to the wonderful Cathedral Cove (Te Whanganui-A-Hei). The rock arch is formed by the surge of seawater of the cliff. It grew over time and formed this giant hall. At some time in the future the roof will collapse and only a single sandstone pillar will be standing tall. To reach the beach it is an easy and well paved 2,5 km walk along the shoreline from Hahei beach. The spot is not only about the classic sandstone arch that you see here but has plenty of photographic scenes to offer. Next time I will definitely make way more time for the Coromandel Peninsula.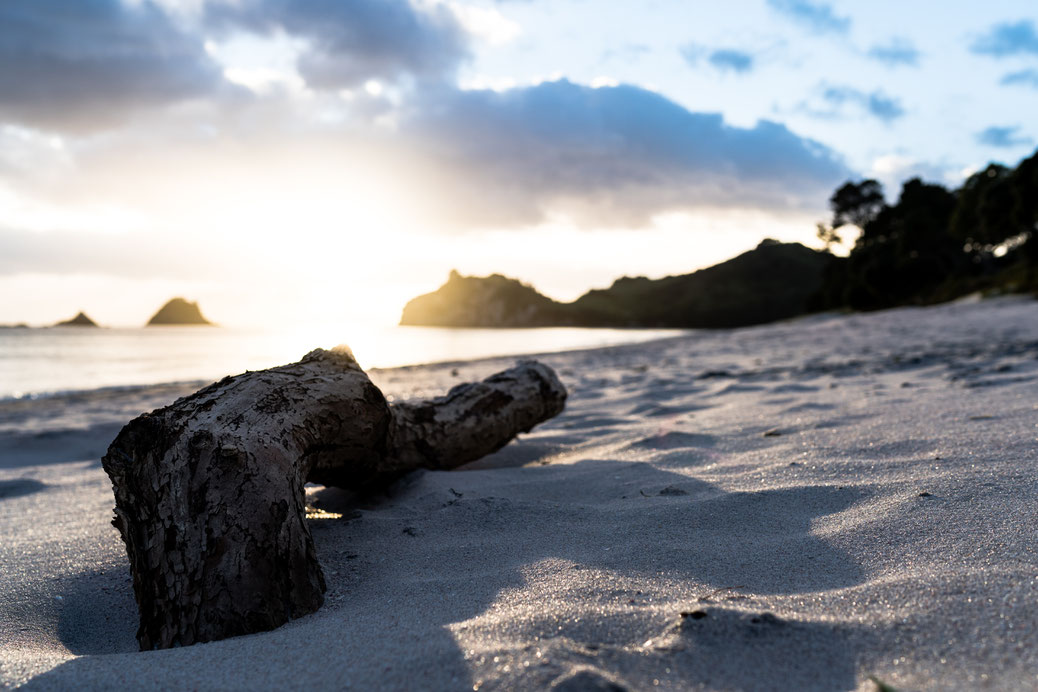 Hahei Beach, North Island, New Zealand
Hahei Beach was only planned as a campground for us to go to Cathedral Cove but turned out to be worth a trip itself. The Hahei village only has about 300 residents. In season it swells to nine times that number. I had only a few steps from our beachfront campervan site to this beautiful location. Took this shot of a log during sunrise. Sometimes it is the simple spots and compositions that catch your eye.

Tongariro National Park, North Island, New Zealand
"Confident hikers only", was announced for the next day due to strong winds for the Tongariro Alpine Crossing. It is rated one of the best day hikes in the country. I listed for the very early transfer from Turangi next morning. The hike began on-site at around 6.30 am and I was up at the peak (with plenty of photo and video stops) at around 11 am. This is a panorama shot of Mount Tongariro - the highlight of the trip. Since I visited in November the place was still covered in sometimes knee deep snow. But we had perfect weather that day (besides some really windy spots on the way up). The Tongariro Alpine Crossing is a 23 km hike that almost takes you a full day to do. It is really exhausting, but by far the best hike I have ever done. It has been awarded a dual world heritage area due to its natural beauty and its cultural relevance.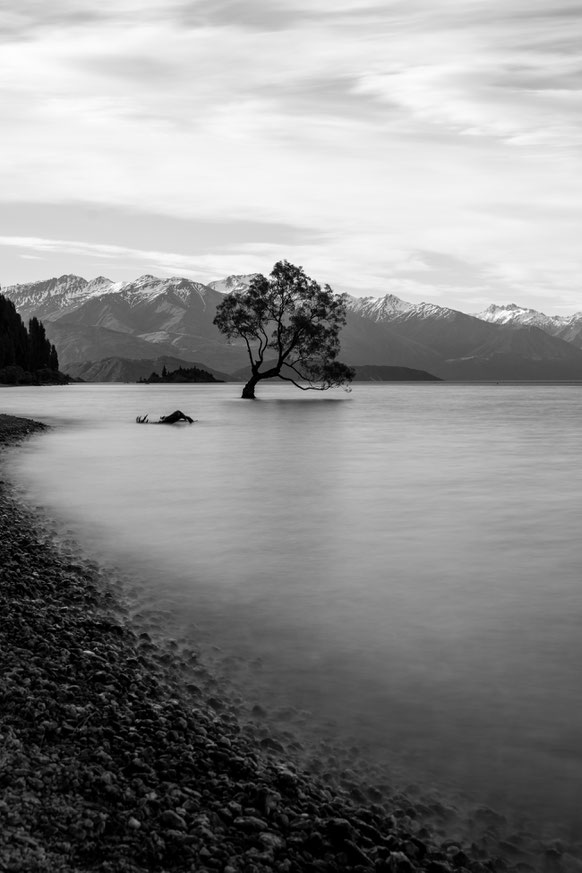 "That Wanaka tree", Wanaka, South Island, New Zealand
Well, you probably have seen this tree a thousand times before when you are interested in photography in New Zealand at all. And I did too before going to Wanaka. It is a solitary crack willow tree (Salix fragilis) that stands near the shoreline of Lake Wanaka and has the beautiful Southern Alps of New Zealand as its backdrop. The shoreline is filled with people taking instagram shots. I went for a black and white long exposure since I didn't get any colours in the sky that late afternoon. The question I always ask myself when at these instagrammed places is whether I would have taken a picture of that tree without it being "famous". Probably not, to be honest. If you don't know this spot at all check instagram for #thatwanakatree. How many trees do you know having their own hashtag?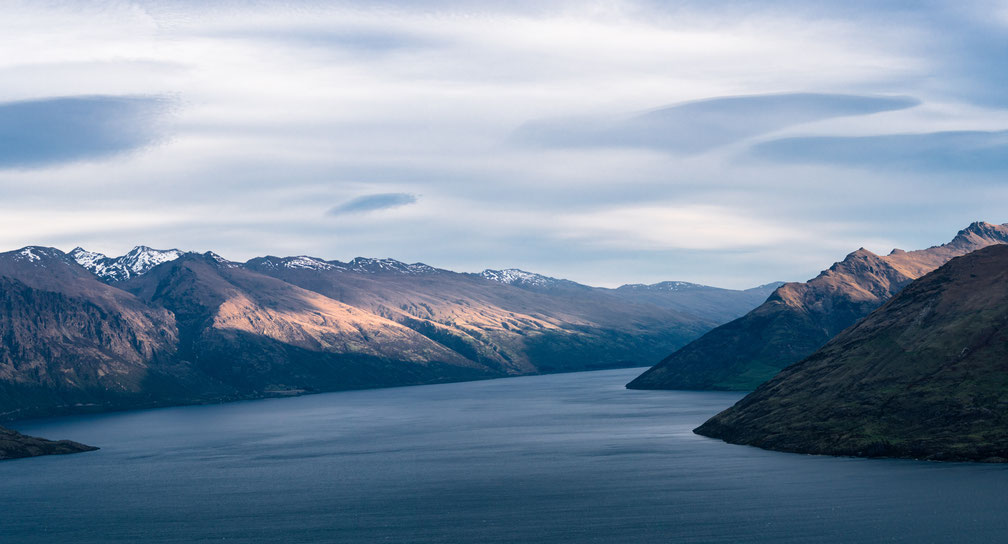 Lake Wakatipu, Queenstown, South Island, New Zealand
Queenstown was just a stopover for us since we are more into landscapes than about an extreme sport thrill in one of the adrenalin capitals of the world. After arriving in the city I quickly went for Skyline Queenstown, a cable car that takes you 450 m high on top of the city overlooking Lake Wakatipu. This inland lake is shaped like a lightning bolt, has been carved deep in the mountains by ancient glaciers and is the countries third largest lake. Looking at this calm and relaxing landscape beauty during sunset it is hard to imagine that you are in the very middle of the a city where over 30 years ago bungee jumping was first done commercially.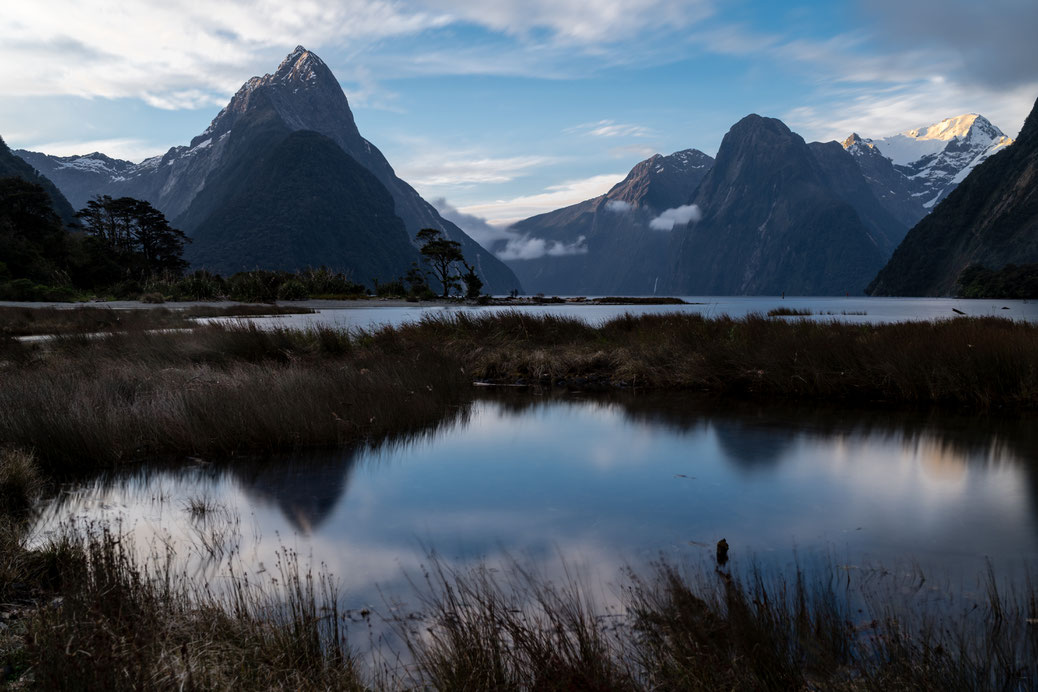 Milford Sound, Fiordland, South Island, New Zealand
Milford Sound was very high on my bucket list for ever I would say. We didn't do the Southland back in 2001 during my trip with university and I always thought this spot was way too inaccessible to go to. Although its access street ends at a remote corner of the southwest edge of the Southern island of New Zealand it is easy to get to even with an RV. I planned on staying for two nights since weather is unpredictable in that corner of the island and it rains most of the time of the year. And so it was when we drove down Milford Road to the very end. Just rain for the whole day and the windshield wipers on their highest level. I had to walk for 30 min from the car park to this spot where you have the perfect view towards Mitre Peak. Still, I got up before sunrise the first day and went again for sunset. And same programme for the second day. All of the time I didn't get the light I had hoped for, but with a place like this, seeing it for the first time, there is absolutely nothing to complain about! In the morning I was on my own mostly, for sunset there where way more people enjoying the scene. And most importantly, this spot stands up to its expectations. It is as beautiful and stunning as it looks from pictures.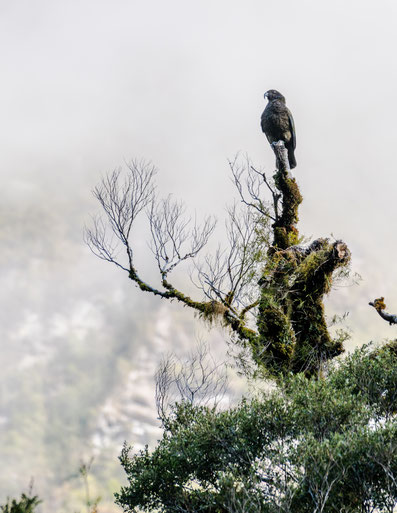 Kea, Milford Road, South Island, New Zealand
Keas (Nestor notabilis) are a species of parrot that can be found in the forested and alpine regions of New Zealand (especially the Southern Alps of the South Island). They are known as curious, smart and playful. After a full day of rain when driving to the Milford Sound and staying there for two days we had a wonderful day going up the road again and took every chance of getting to see these magnificent birds. Found this proud Kea on top of a huge tree when entering my car and already leaving for the next stop. It was still a bit misty and foggy that morning and I didn't manage to see it directly. The "clowns of the mountains" really like interacting with humans, the rubber of window frames of cars and backpacks. It still is an endangered species and our junk food is not the right diet for these magnificent birds. So please enjoy them when seeing but do not feed them (as with any other wildlife)!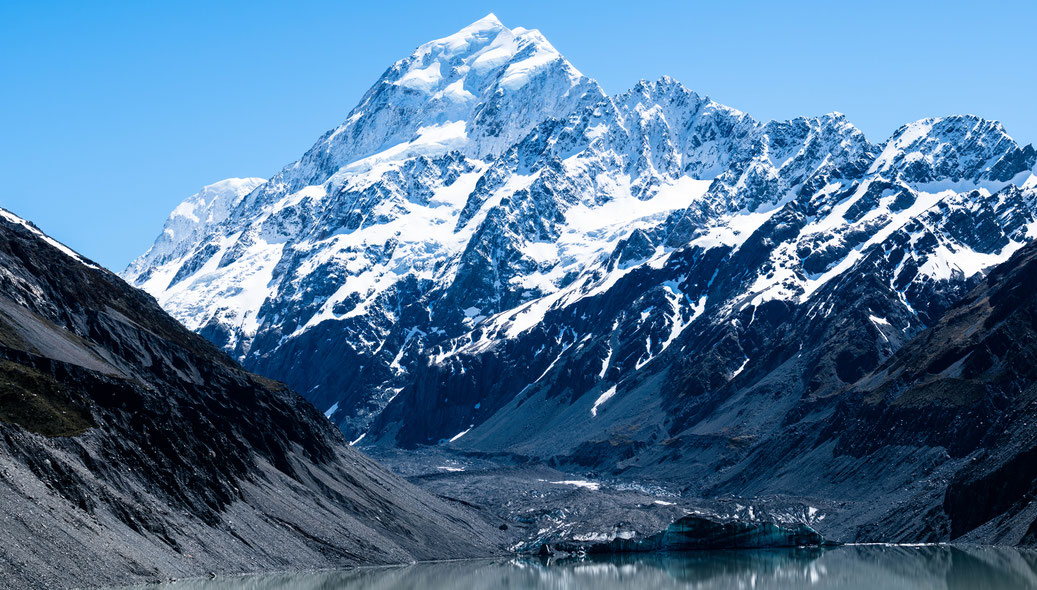 Mount Cook at the Hooker lake, South Island, New Zealand
If you also enjoy a vista like this check for the Hooker Valley Track. It is a flat 10 km, three hour return hike at Aoraki/Mount Cook in the middle of the highest peaks of the Southern Alps in New Zealand. Going along the Hooker river you pass Mueller lake and glacier, cross three swing bridges and find the highlight at Hooker lake and glacier at the return point with a nice picnic area. Made this panorama of a few tele zoom shots. When around you might also think of the Tasman Glacier hike.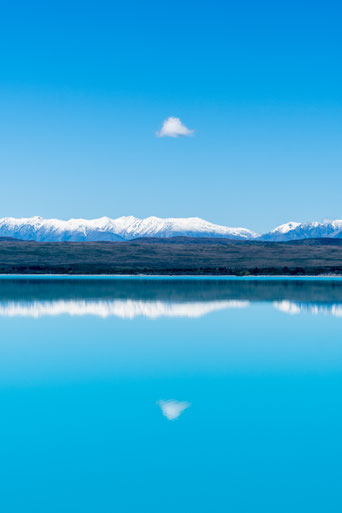 Lake Pukaki, South Island, New Zealand
Lake Pukaki marks the entrance to the famous Aoraki/Mount Cook valley and park and is the largest of three roughly parallel alpine lakes running north–south. You cannot miss is since you have to drive along its shores entering the place and you will not forget its color once seen it. It is deep turquoise due to the sediments or rock flour. You can find a good detailed explanation of its colours with this article. I choose this picture for my Top Ten because I love the minimalism and the mirroring effect. Having the small cloud reflected at the calm lake surface makes for almost a perfect mirror effect. A good spot to stop for is Peter's Lookout at the west side of the lake as well as Lake Pukaki viewing point at the south end.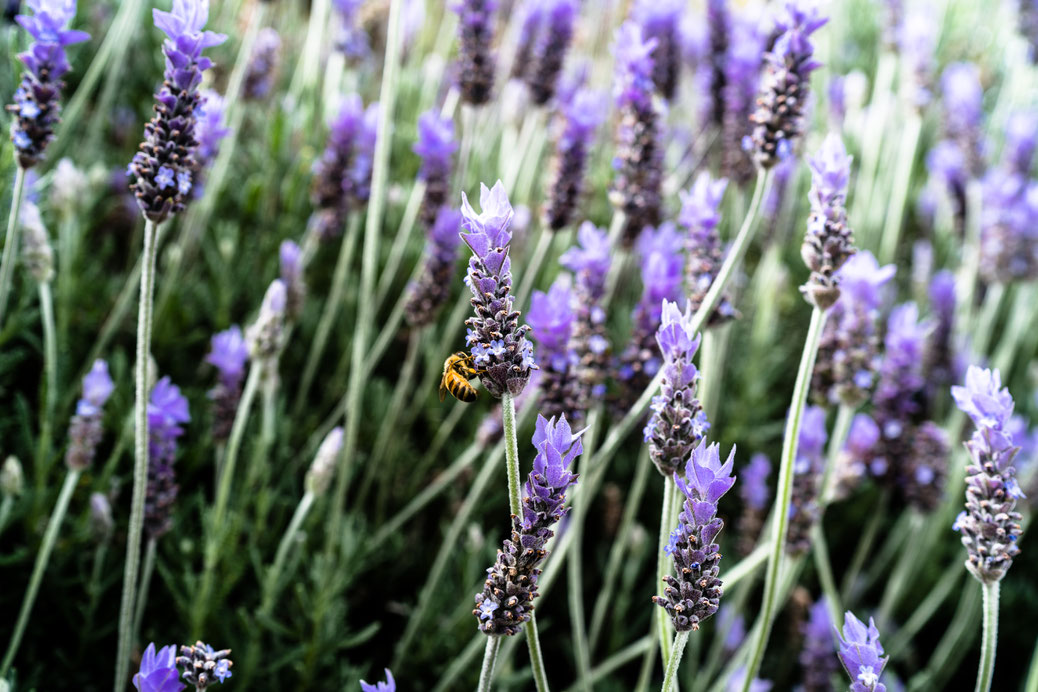 Lavender field, Banks Peninsula, South Island, New Zealand
A bee in a lavender field could also be the typical "Summer in Provence" picture. But this was taken in New Zealand, I promise! Before going to Christchurch and then leaving the country after three and a half weeks we spent two days on the Banks Peninsula. The peninsula comprises the eroded remnants of two large shield volcanoes. Today many people visit because of the former French settlement in the harbor town of Akaroa.