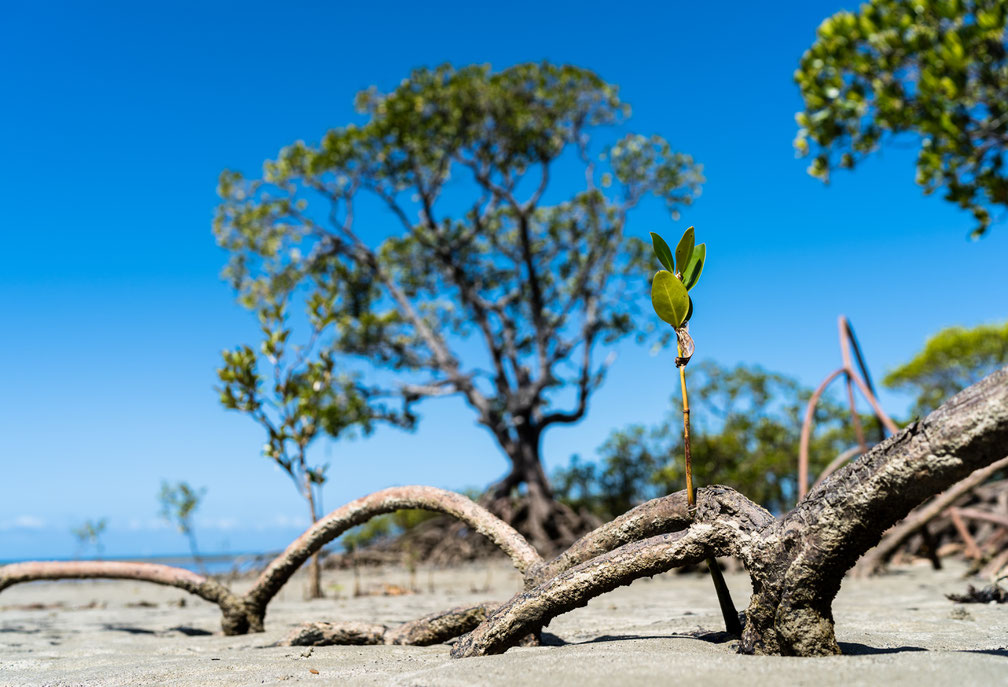 Little mangrove tree, Cape Tribulation, Queensland, Australia
Mangroves grow in tropical coastal saline or brackish water and are a good indicator for an intact ecosystem. This picture was one of my first shots after arriving in Australia. We went straight up north from Cairns with our campervan for the pristine Cape Tribulation, took the Daintree river ferry and ended up here at the Cape Tribulation camping. It immediately feels like paradise here.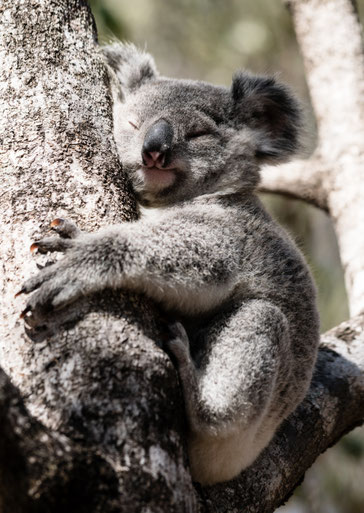 Koala bear, Magnetic Island, Queensland, Australia
This is most probably one of the most clichee shots you can expect when speaking about Australia (besides a jumping kangaroo, of course): A Koala bear (Phascolarctos cinereus) hugging a tree while dozing. It is an arboreal herbivorous marsupial native to Australia. And it's so cute! We found this guy during a hike to the Forts on Magnetic Island. A classic day trip from Townsville. I did the exact same trip back in 2001 and we also found some Koalas back then. Even if you don't spot it yourself, your fellow hikers will let you know where to find them. And since they don't move too much during the day it's easy to find them once you know where to look. You can find a nice resource and Koalas and other wildlife open Magnetic Island on Ray's and Sue's Travel Photography website.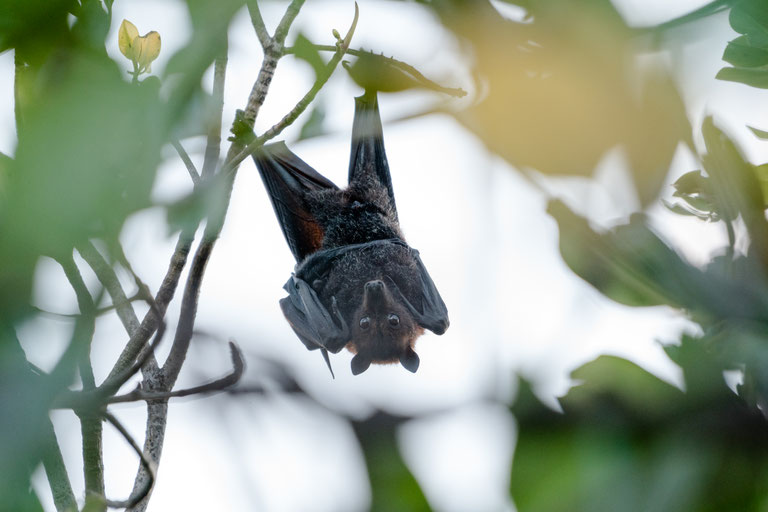 Flying fox, Townsville, Queensland, Australia
Flying foxes (Pteropus) are one kind of megabat species that is also known as fruit bats. They live in the tropics and subtropics, are mostly nocturnal and do not echolocate (in contrast to many other bats), but rely on their sight. This picture was taken in Townsville, Queensland, on an early morning before sunrise at a mangrove forest by the calm sea. A large group of flying foxes was already home from their night feeding, but still making some good noise before going to sleep. Some of them were already resting upside down (as seen in the picture), some of them were still trying to find a spot to hang down from and arguing with one another for the best location. A spectacle to watch in the forest and to smell as well. The City of Townsville offers some good information on the three kinds of flying foxes that can be seen in the city. We got some good knowledge about megabats and their smaller cousins during our visit at the Tolga Bat Hospital in the Atherton Tablelands. Many of the flying foxes get stuck in barbed wire fences during the night and need to be cut off and carefully nursed afterwards. It is an interesting hospital to visit once you are around.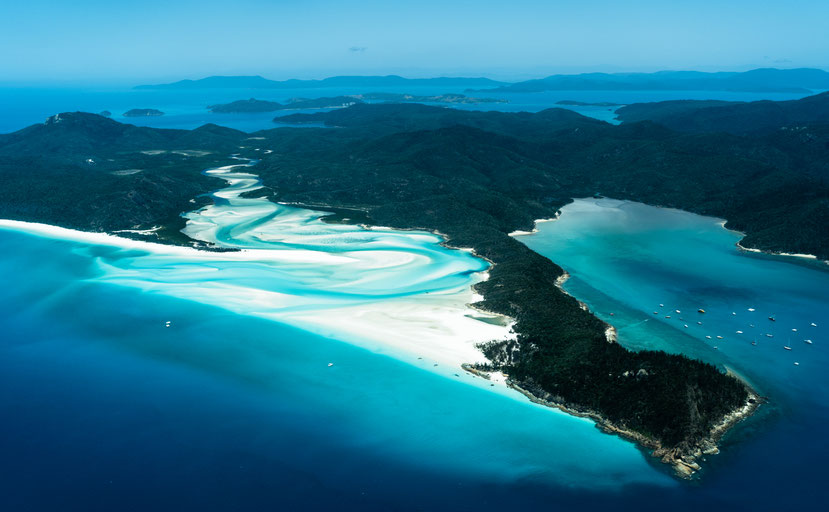 Whitsunday Island, Queensland, Australia
This is an aerial of Whitsunday Island with its long and pure white Whitehaven Beach to the very left. The sand is really that white due to 98 % pure silica. After visiting the beach by boat in the days before I surprised my wife with this birthday flight around the area. It lasted for an hour and we flew over the coastal national park, several of the Whitsunday Islands, the open sea and finally the part of the Great Barrier Reef that includes the Heart Reef. But this view was definitely the highlight of the flight. I mean, the colors of the inlet mixing with the white sand - marvelous!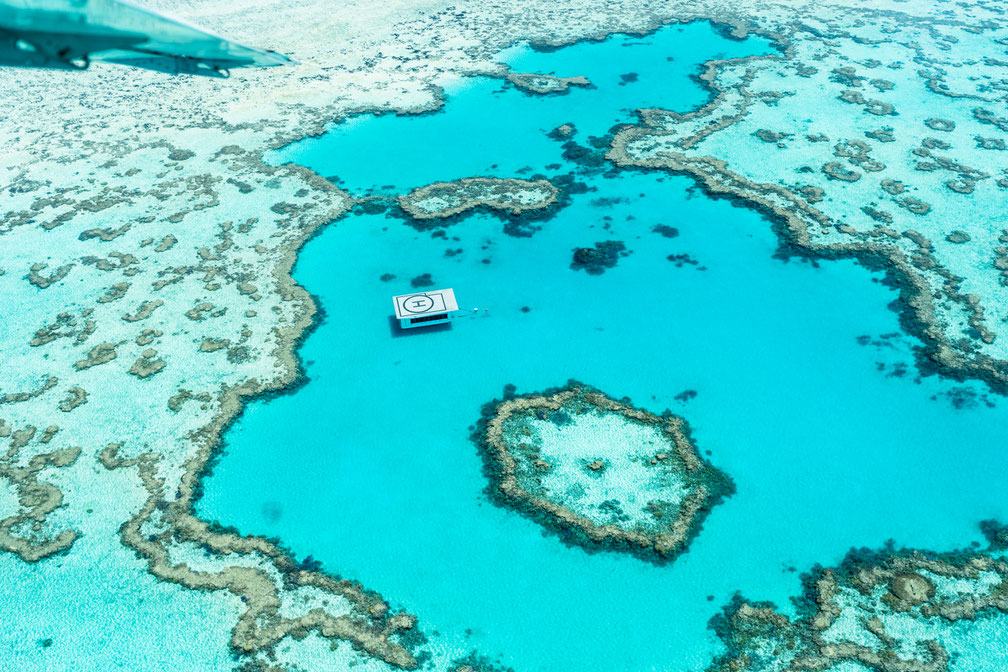 Great Barrier Reef, Queensland, Australia
The second part of my wife's birthday flight was over the Great Barrier Reef. It took us seven minutes from Whitsunday Island over the open and empty sea before we saw the first reefs. I have been at the Great Barrier Reef near Cairns for a dive back in 2001. You go to a diving and snorkeling spot with some 300 people on a huge boat and then enjoy the marine scenery up close for two to three hours. It takes you about three hours by boat one way and you don't really have an idea of what the place really looks like and how vast it is. I am really thankful for this flight giving me at least a good glimpse of the beauty and size of this more than 2.300 km long reef that is almost the size of Germany. The turquoise in the colour is real!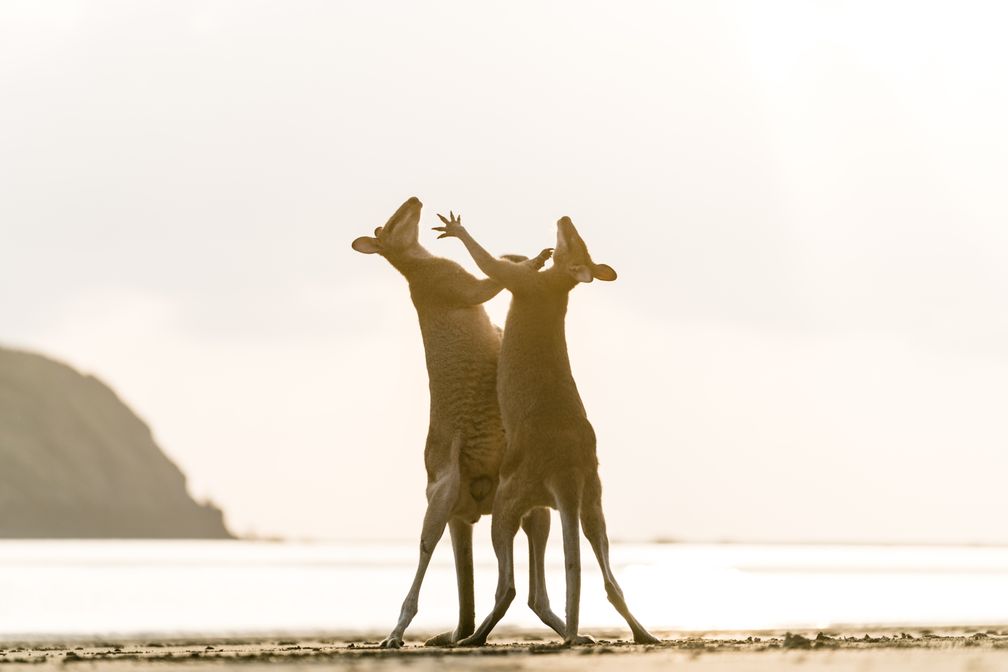 Wallaby fight, Cape Hillsborough, Queensland, Australia
Instagram is a blessing to some and a curse to others. But without it I wouldn't have known about this spot. The Cape Hillsborough Tourist Park in Queensland, Australia, is a quite remote RV park at the beach front. Every morning lots of wallabies and some grey kangaroos come down to the beach from the Cape Hillsborough National Park to feed from the algae that the flood left at night. Our alarm clock was set to 5 am and we went the fews steps to the beach to be there way before sunrise around 5.20 am. Some of the marsupials have already been there foraging. With the rising sun and more tourists it got a bit crowded. Around 40 people, a marine biologist from Mackay, lots of wallabies and some grey kangaroos populated the scene. First, I was a bit annoyed about the marine biologist setting up small yellow cones like for soccer practice. But seeing how some tourists tried to cuddle with and even feed the animals I understood that this is a sad necessity. They just want to ensure that future tourists can have the same experience that we had. And what an encounter this was - one of my all time favorite animal experiences ever! After filling their bellies some male wallabies started to check on their strength levels. They started to "fight" at the beach. It looks quite aggressive from this picture, but it is more of a ritualistic fight to impress the females. I was very happy with the footage that day - both photo and video. I layed down my 70-200 lens on the beach to stabilise it and to include some foreground to the scene to show some depth. Pretty pleased with this shot!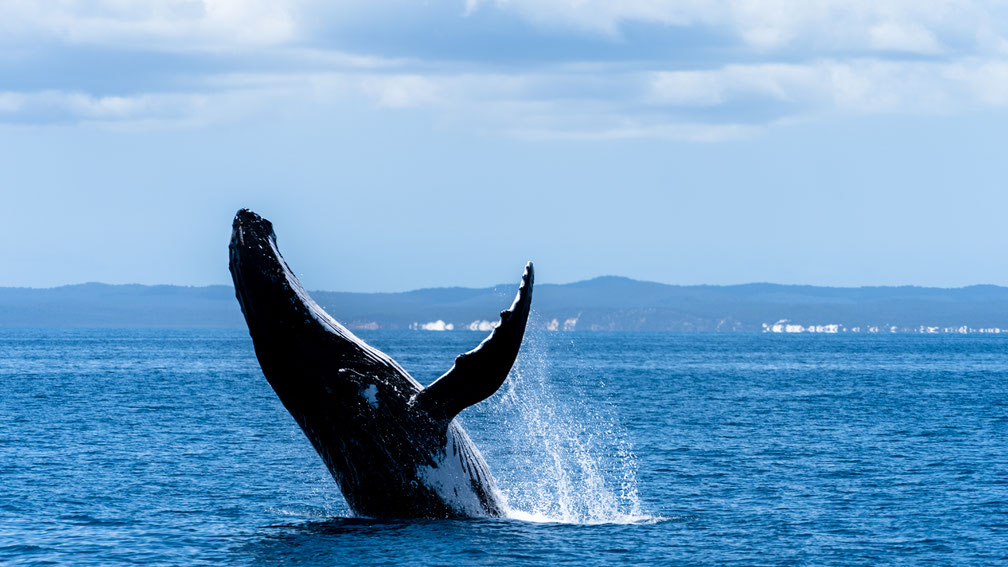 Breaching humpback whale, Hervey Bay, Queensland, Australia
Hervey Bay off the Fraser coast is one of the best spots worldwide to see these marine giants. In season it is a stopover on the east coast of Australia for up to 8.000 migrating humpback whales on their way down to Antarctica for the south summer. The huge sand island Fraser Island (K'gari) protects the east coast of mainland Australia and creates a calm arena for whales to raise their youngsters - a calf kindergarten if you will. The place is shallow, sheltered from the ocean waves and warm. The only thing to make sure is to come in season which is July to November. In 2019 Hervey Bay was awarded  Whale Heritage Site by the World Cetacean Alliance. It is one of only two spots in the world. Congrats, well deserved! Make sure to check my humpback whale blogpost where I shot this and many more stunning pictures!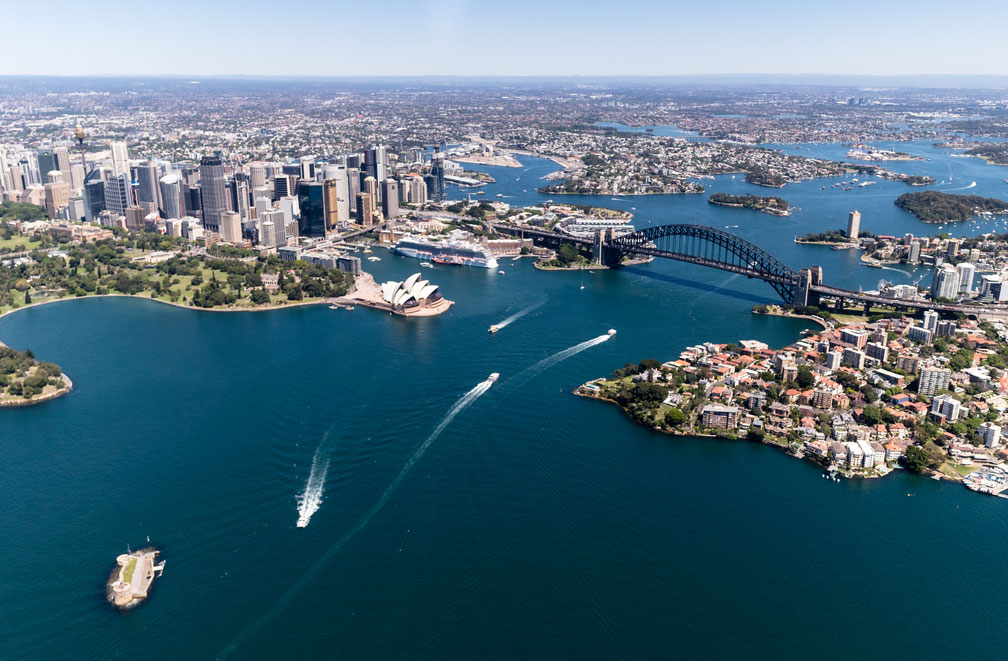 Sydney Harbour, New South Whales, Australia
After a three week road trip with a campervan through Queensland we started our five day stay in Sydney with a 20 minute helicopter ride. Perfect weather and conditions for seeing the harbour, the sandstone coast and Manly. We had the chance to fly with Sydney HeliTours and enjoyed the commentary of the pilot along the ride. I really like this shot of Sydney harbour with the Harbour bridge, the Opera House and all the ferrys. Hope you do to.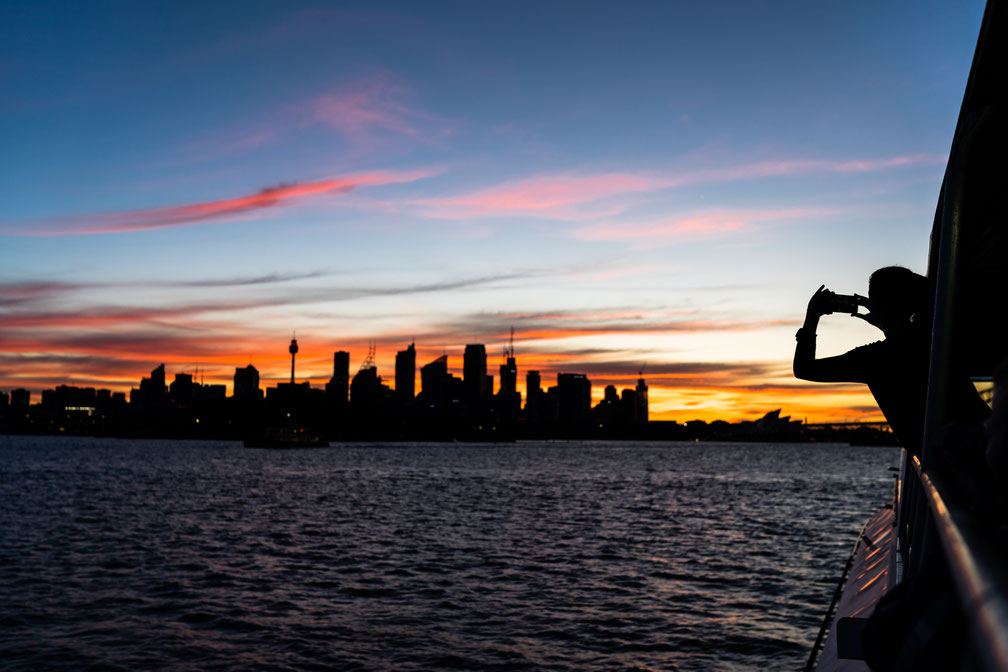 Sydney skyline off the Manly ferry, New South Wales, Australia
I have been to Australia and for a very short time in Sydney with university on a field trip back in 2001. This time I wanted to spend some more days in the city since I knew about its beauty. I friend of my wife lives in town since 2006 and we payed her and her partner a visit in Manly. We took the ferry from Circular Quay and after an early dinner I wanted to take the ferry that was timed for sunset. It didn't work out like the photographer hoped for and we took a ferry later. First, I was a bit disappointed, but coming closer to Sydney harbour I realised that I was in for an ever bigger treat than the one I hoped for. It was time for blue hour and the skyline literally was on fire! I constantly took photos and videos on deck and also got this shot of lady taking a cell phone shot of the skyline. A perfect moment for me.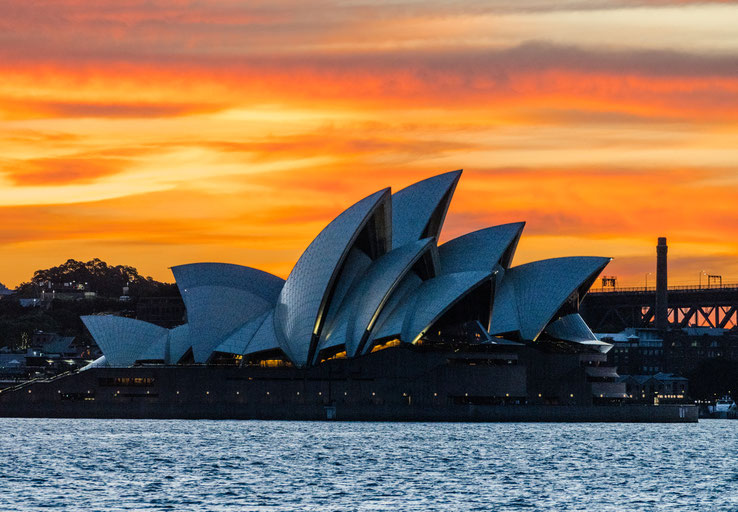 Sydney Opera House, New South Wales, Australia
On that very ferry tour back from Manly I took another shot worth integrating in my Top Ten Australia shots. A close-up of the Sydney Opera House after sunset with a burning sky. Luckily, we finished our RV Australia trip end of October 2019 and therefore before the severe fires. A clear shot like this wouldn't have been possible in Sydney for the weeks to come.