I am a geographer. Part of the fun of my studies was that there were plenty of excursions to choose from. In 2001 we drove to Bavaria, Austria and even parts of Switzerland for a ten days trip. I saw the beauty of the Engadine for the first time back then. The Engadine is situated in the southeast of Switzerland, near Austria and northwest of Italy.
Engadine translates to "the valley of the Inn people". The river starts in the eastern part of Switzerland, passes Austria and empties in the Danube river in Southern Germany. It is a high alpine valley protected by mountain ranges and divided into the Upper Engadine and the Lower Engadine. On a day trip from Austria I went to visit the Lower Engadine again in August 2016.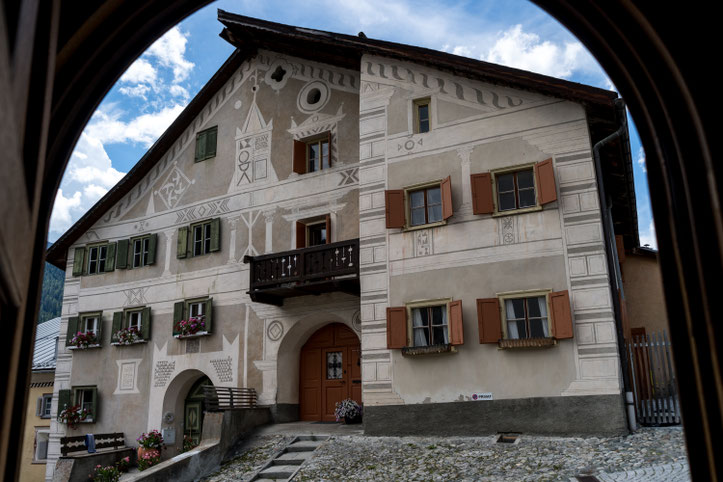 Ardez
Most of the Lower Engadine villages are tucked away in secluded mountains. The majority of the population in these small and isolated villages still speaks the archaic Romansh language (close to Latin). I even found Romansh chant books in the local church.
First stop was Ardez: It is located on the left bank of the valley above the Inn river. This 600 citizens village is beautifully nested in the alpes as you can see from the picture above. The ruins of the Steinsberg castle dominate the silhouette.
Sgraffitto
The unique feature of these villages are the magnificent and well preserved sgrafitto houses. They have beautifully painted facades dating back to the first half of the 17th century. These old heritage houses, built of stone, lime and wood, have thick coarsely plastered walls, which provide an ideal background for murals executed predominantly in subtle pastel colors and shades. While sgraffito decorations are sometimes freehand paintings and stencils executed on plaster, more often these are etchings in which the outer coating of plaster, while it is still wet, is consummately scrapped or etched away in beautiful and complex patterns to create splendid murals.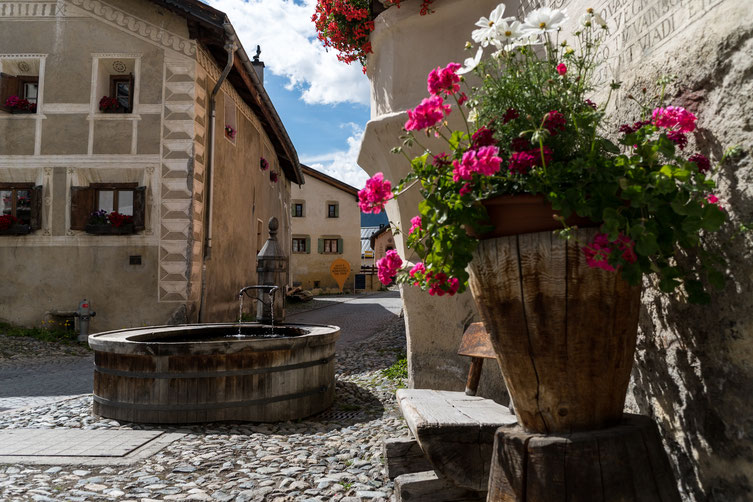 Guarda
When we passed the entrance of Guarda with its parking space I immediately recognised the spot from 15 years ago when we where here with a bunch of geographers. The village that is close to Ardez has been awarded a price by the Swiss Heritage Society for the preservation of its architectural heritage. The award notes that it is one of the best preserved and characteristic villages of the Lower Engadine.
We finished our day trip in the Lower Engadine in the Val Müstair in Italy with a short visit of the Saint John abbey of Müstair. If you are ever in the region treat yourself with a tour like this.