De Hoop is a special place
De Hoop is a nature reserve 230 km east of Cape Town at the coastline of South Africa. Named after the farm "De Hoop" this place turned into a state-run nature reserve in the late 1950s. It is a UNESCO world heritage side since 2004. We missed the reserve two years ago when we were in South Africa for the first time. This time I looked up for nature reserves that we did not see before and I came along this vast stretch of wilderness along the coast between Stilbay and Cape Agulhas. The reserve has 45 km coast line and is one of the most beautiful places that I have seen in South Africa so far.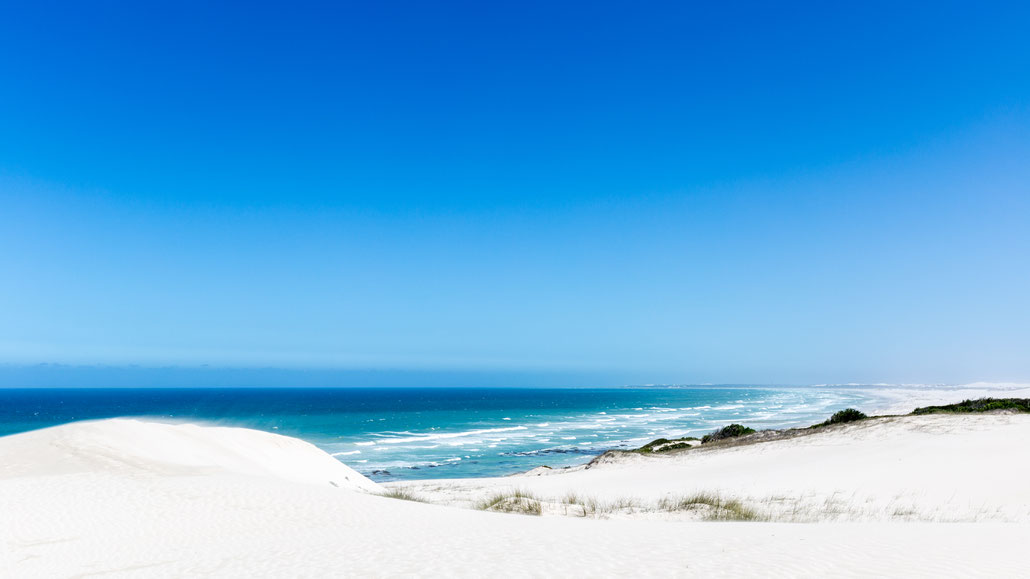 De Hoop is remote
It is at least 50 km gravel road to make it south of the N2 to the nature reserve. Once you made it you get an instant reward since not everybody does this tour on a tiny rental car. We stoped at a gas station in Heidelberg to fuel up - not to many gas stations around De Hoop - and the petrol attendant recommended to take the direct route via the Malgas car ferry over the Bree river. Sounded like a plan and off we were. It was quite a bumpy road and not many cars to see alongside. 2 km ahead of Malgas my wife asked whether I saw the sign. I did but went passed. It said "Ferry closed". I just thought that they forgot to turn the sign around to say "Ferry open". After we saw a car detouring we felt a bit uncertain and stoped. We met a young lady in her 30s and she was kind enough to confirm that the ferry was out of the water for some major update for two weeks now. And for sure, no other ferry or bridge around and meanwhile we were just a few kilometer outside De Hoop - but still on the wrong side of the river though. We asked her for the quickest way out of this situation and since she was not to sure about the roads and directions, we followed her to her husbands farm and he gave us some advice. On the road again headed north to the N2. Drove the N2 westwards to finally enter the normal road to De Hoop south again with another 50 km gravel road ahead of us. This detour cost us at least 50 km more gravel road and nearly two hours. But no offense to the petrol attendant, he surely was not up to date on the ferry upgrade. We finally made it and entered the park. The place is just packed with eland, bontebok, baboons, zebras and ostrich. It has a lovely fynbos vegetation and you can spot the long dunes at the horizon which makes for a stunning view.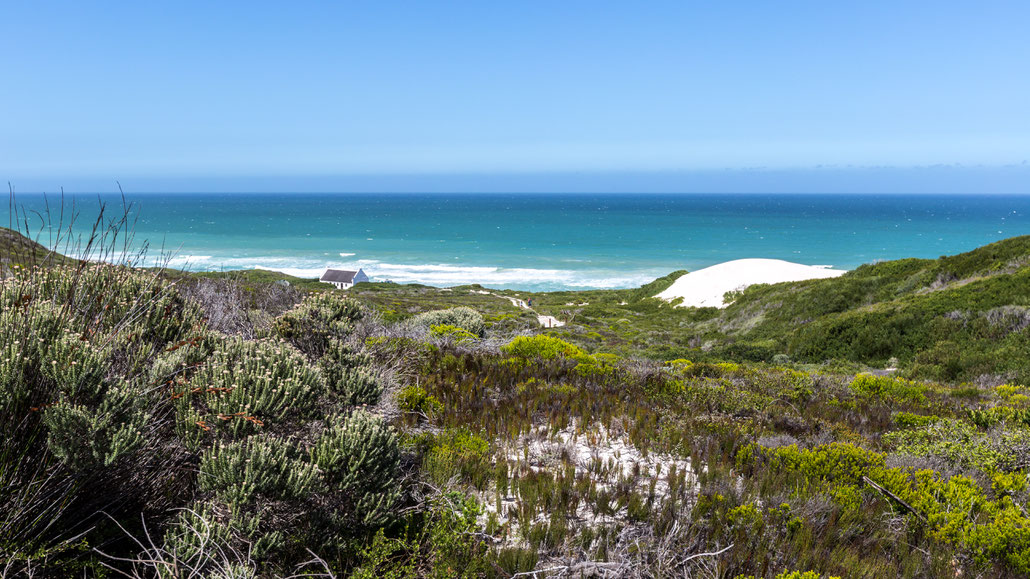 Our first marine walk
We did a lot of guided walks in different countries but never a marine walk before. Run once a day during low tide we went down to Koppie Alleen (where the large white dunes are) with our cars and started the walk. The marine walk is mainly about the rock pools that are not fully flooded during low tide. You have got to wear a pair of solid shows to enjoy the walk between the pools. Our guide showed us things that we certainly would have missed or did not know about. We saw plenty of periwinkle, an octopus, sea anemones, limpets and blue jellyfish. Not too far away we saw quite some pairs of African black oystercathers screaming once we came close. By the way, the coast line of De Hoop is famous for whale watching since it is so calm and remote. But a visit in March does not match with the nursery calender of the whales. We have to come back!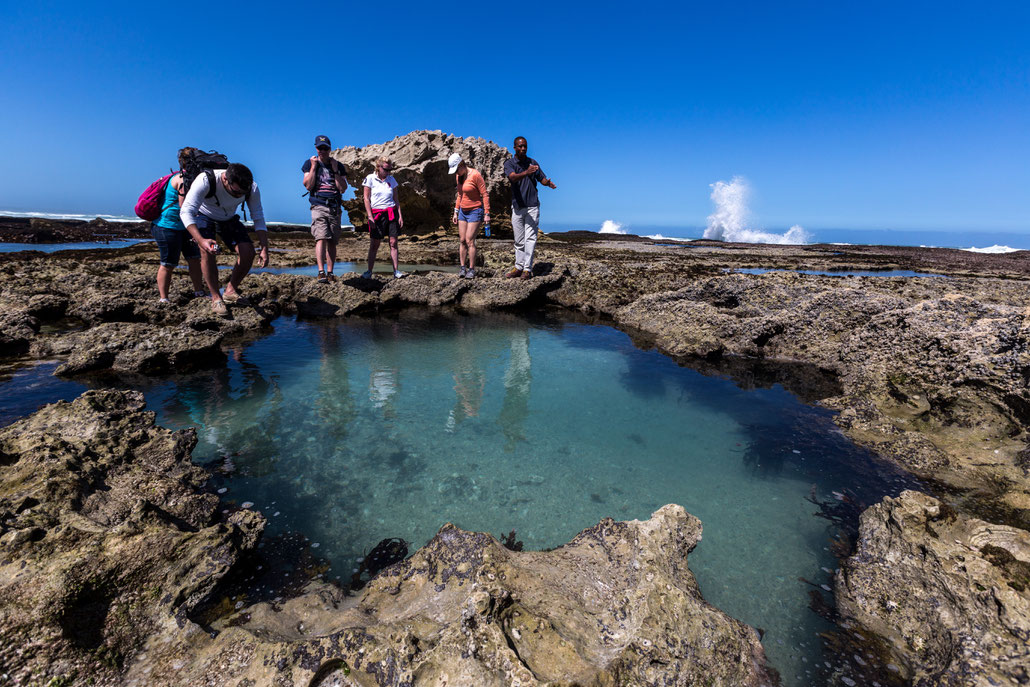 Up early for a "sunrise" with an Eland
I quite like to get up early during vacation to catch the first sunlight on camera and did so this time. Got up a 5.30 h and drove some 20 km down to the coast line where the white dunes are. I was still pitch black when I arrived at the car park. Set up my tripod and cameras and started a timelapse. Then I spotted a still dark something some hundred meters away. I was not sure what it was, but it looked like an animal. A picture from 500 px of the De Hoop dunes came into my mind. That picture had two eland, the largest antelope of South Africa, "grazing" in the dunes. And indeed, it was an eland staring at me. I hectically tried to make a shot of the antelope in order to document that I saw it, but it was still to dark to catch focus and to see it properly. Luckily, the eland was very calm and relaxed and stood there for quite a while. So I managed to get my picture - even a long exposure. There were actually three eland in the dunes that we did not see during day time the day before. They most probably do not like tourists. By the way, no sunrise today! Just clouds and fog. Still beautiful but not the light that I hoped for...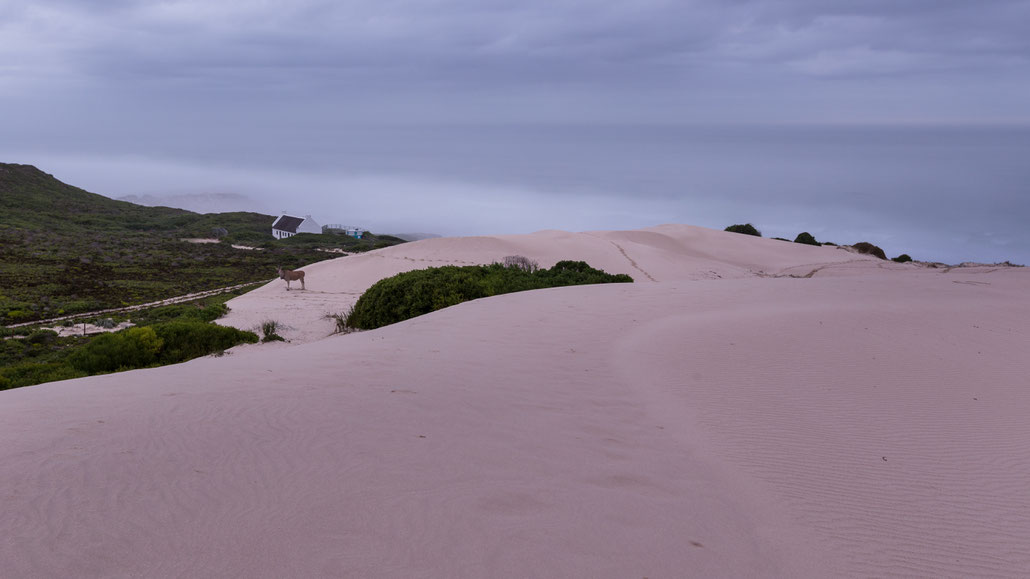 My milky way house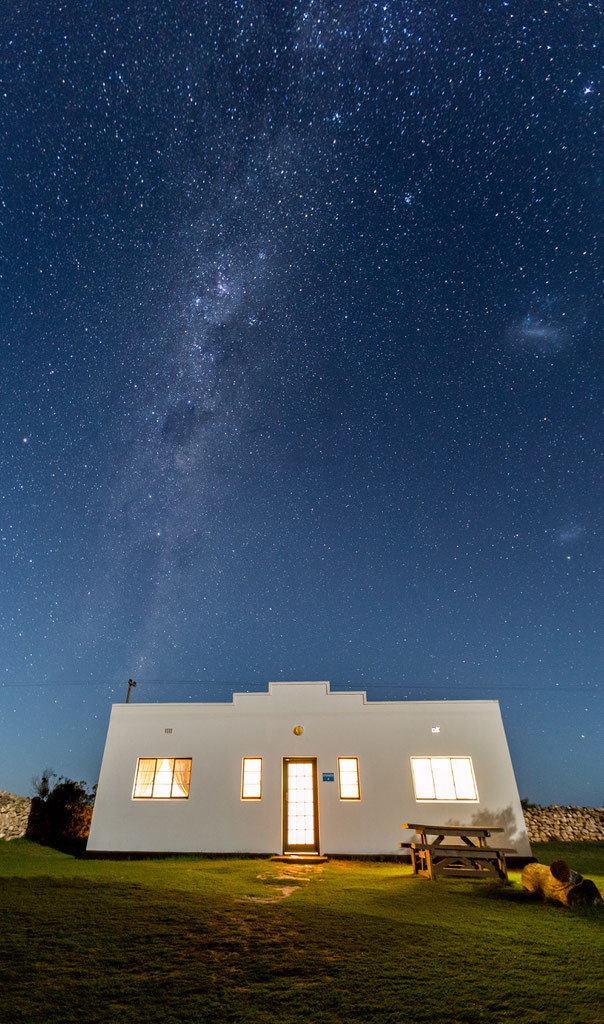 Besides getting up early for some sunrise pics I like staying up late at night for the milky way. This time it was an easy shot since De Hoop is so remote that you barely have light pollution. I positioned my tripod in front of our little house and shot it almost vertically above it. The milky way was bright enough to even see it once your eyes got used to the darkness.
We made it - and will be back again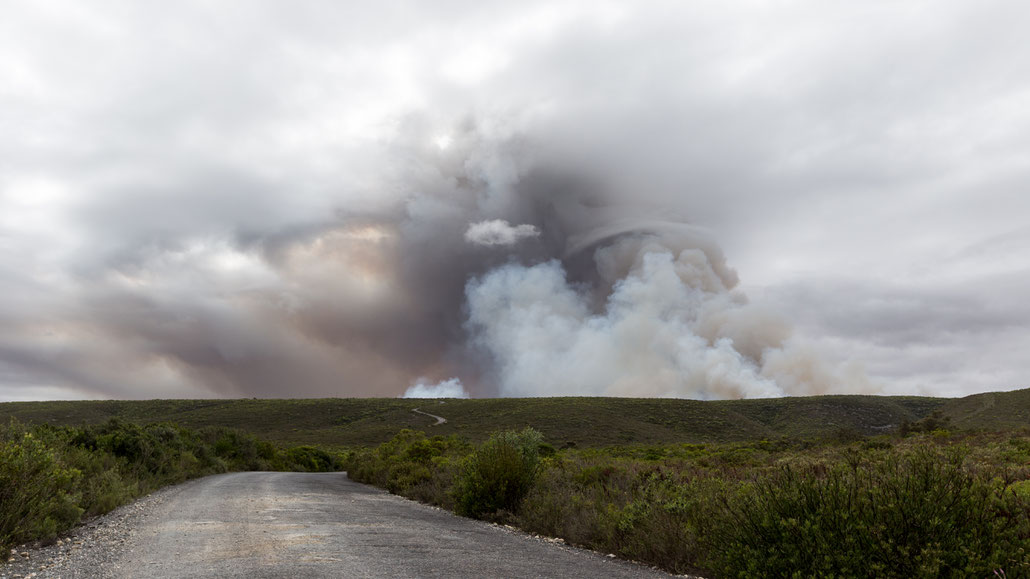 After a nice and final breakfast we headed north outside the park towards Botriver, our next location towards Cape Town. Another left turn and we saw a huge pillar of smoke in the fynbos vegetation. As we came close the pillar got larger, the air thicker and we saw fire. They were burning the fynbos on purpose to make some of its plants pop their seeds. So far so good. There was only one gravel road out of the park and the smoke and fires got more intense. We saw "firemen" standing at their trucks at the shoulder of the road watching the fire. We drove past them and a few minutes later the smoke got so thick that we could not see the road anymore. We finally sensed and then saw the fire directly next to the street. A huge fire that was steered by the wind. I could even feel the heat of the fire at my driver´s door while not seeing the road. This was the moment when it was not funny anymore. Anyway, we made it.
De Hoop is magical and one of the most stunning places in South Africa. We have and will come back, most probably during whaling season.