Capetown is one of my favorite cities in the world. One of the reasons is its natural beauty with stunning geological formations like the Table Mountain and Lion's Head. I have been there twice back in 2014 and 2016. This is a collection of my favorite shots and experience of these two places.
Table Mountain
Table Mountain or Tafelberg in Afrikaans is probably the most iconic mountain in South Africa. It is a flat-topped mountain forming a prominent landmark overlooking the city of Cape Town. It is the mother cities major tourist attraction that you can easily enjoy by cableway or hike to the top. On top of Table Mountain is the eponymous National Park with its diverse flora and fauna. Some of them can be seen with the pictures below. Looking towards Table Mountain from Robben Island or a boat the flat top is framed by Devil's Peak to the east and by Lion's Head to the west, forming the iconic backdrop and logo of the city. Capetown and its steep mountains are shaped like a natural amphitheatre that opens toward Table Bay harbour. The mountain is 1,086 metres above sea level, which is quite a bit given that big parts of Capetown are at sea level. The flat top of the mountain is often covered by orographic clouds, formed when a south-easterly wind is directed up the mountain's slopes into colder air, where the moisture condenses to form the so-called "table cloth" of cloud. In geological terms Table Mountain is the northern end of a sandstone mountain range that forms the spine of the Cape Peninsula.
Lion's Head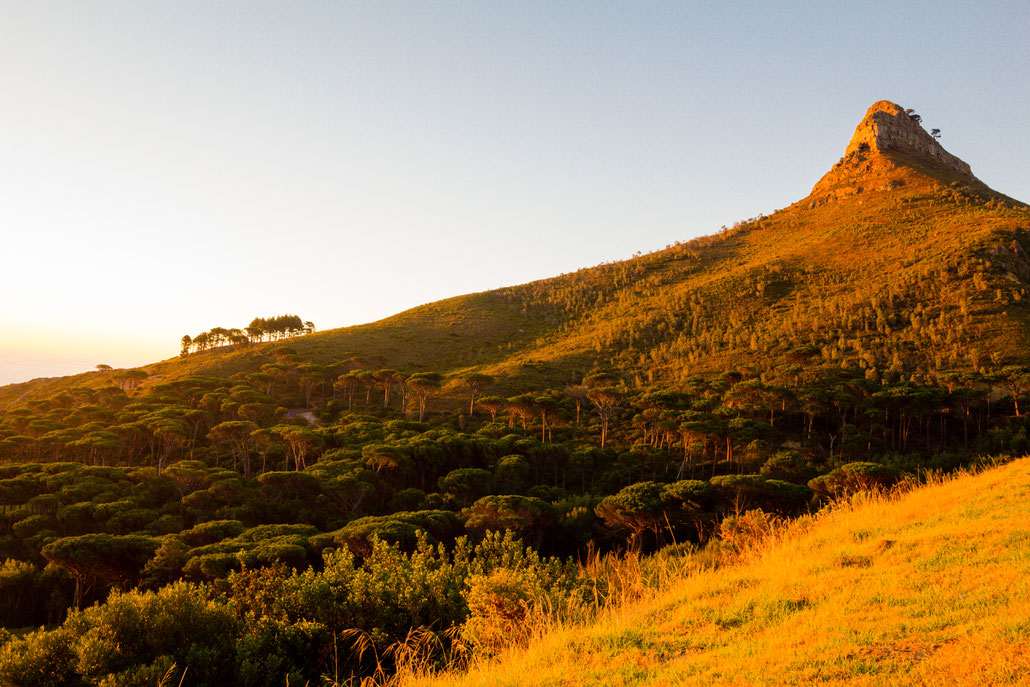 Lion's Head is almost as iconic to the backdrop of the city and more accessible. It is at 669 metres above sea level and its peak forms a dramatic spike. The suburbs of the city surround the peak and Signal Hill on almost all sides, but strict management by city authorities has kept development of housing off the higher ground. The famous Cape Malay community in the Bo-Kaap quarter is really close to Lion's Head. With the Dutch the peak was known as Leeuwen Kop (Lion's Head) and Signal Hill (the base of Lion's head) was known as the Lion's Tail. Lion's Head is spectacularly faced towards the Atlantic Seaboard and famous to climb for sunrise or sunset. It takes you about an hour-long to the top.It is normally quite crowded and some parts are really steep, but is is so worth it! You will find some pictures of my climb in 2016 down below.

These are the pictures of wwo of my favorite places in Capetown - Lion's Head and Table Mountain. If you want to see more South African beauty check my gallery.